It's no secret that Hailey Beiber has probably one of the better, healthier looking skin than any celebrities. That's probably why it was a perfect match for her to start her own beauty brand in Rhode which we know to already be successful as she's the face of her own brand.
However, when it comes to a Vitamin C serum, which is an essential part of your everyday skincare routine, Hailey Beiber has been known to call out this particular product.
Hailey Beiber says this Vitamin C serum is one of her 'holy grail products' according to US MAGAZINE.
What skincare vitamin c serum are we talking about? The brand was founded by Beibers friend Ron Robinson.
"It's the world's first serum containing 20 percent stable and pure vitamin C, which was groundbreaking in the skincare industry," Bieber said. "It has changed my skin. One of my holy grail products."

US WEEKLY (Hailey Bieber Says This Vitamin C Serum Is One of Her 'Holy Grail Products')
BeautyStat Universal C Skin Refiner – Serum for Face, 20% Pure L-Ascorbic Acid (Vitamin C)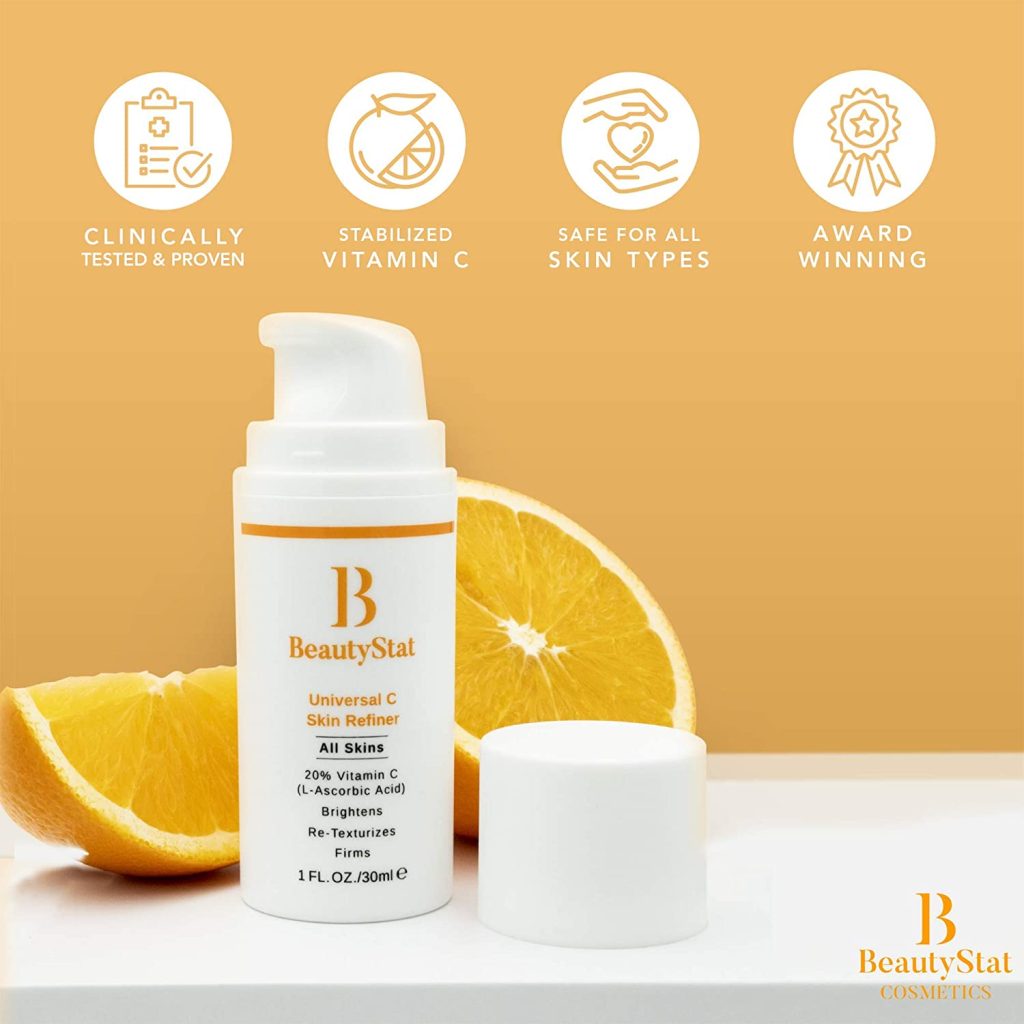 ---
If you're looking to try a new Vitamin C serum for your skincare routine, I think we may have found just the one…I mean…if Hailey Beiber says so, right?
Universal C Skin Refiner is the world's first 20% vitamin C serum containing stabilized L-ascorbic acid (the purest form of vitamin C) through a patented encapsulated system promising maximum potency delivering the fastest results. No other product available contains the same potency as our Universal C Skin Refiner.
The Universal C Skin Refiner can be used on its own or under your makeup. Its velvety texture makes the Universal C Skin Refiner soft and comfortable to wear all day.
Benefits
Inhibits overproduction of pigmentation to fade dark spots and brighten complexion
Tightens and firms skin, reducing lines and wrinkles while shrinking large pores
Softly exfoliates to reveal skin that is smooth and soft to the touch
Powerful antioxidants heal and prevent free radical damage that cause premature wrinkles, slowing signs of aging 
Universal C Skin Refiner Ingredients
20% L-ascorbic acid (pure vitamin C): brightens skin, fades dark spots, firms, lifts, and treats fine lines and wrinkles while protecting skin
Squalane: delivers hydration that locks in moisture without clogging pores
EGCG (Epigallocatechin Gallate): derived from the most active component of green tea is a powerful antioxidant vital in anti-aging, soothing skin, and reducing redness and dark spots
Tartaric Acid: a natural exfoliant helps unclog pores and balance the skin's pH for optimal ingredient absorption into the deeper lays of skin, providing faster and longer-lasting results
Full Ingredients:
Cyclopentasiloxane, Isododecane, L-ascorbic Acid (Pure Vitamin C), Polysilicone-11, Isocetyl Stearate, Petrolatum, Squalane, Dimethicone, Tartaric Acid, Camellia Sinensis Leaf Extract (Pure Egcg Green Tea), Sodium Hyaluronate, Disteardimonium Hectorite, Triethyl Citrate, Caprylyl Glycol.  
Universal C Skin Refiner Results
Clinical Results
94% of subjects showed improvement of crow's feet, deep lines and wrinkles
75% of subjects showed improvement in skin firmness
72% of subjects showed improvement of hyperpigmentation
Consumer test showed 100% of users saw more even skin tone and smaller pores
Consumer test showed 90% of users saw firmer, healthier skin, reduced fine lines, and improved skin texture
Universal C Skin Refiner Video Review