With all the Vitamin C serums in the market, today we're taking a look at the Truskin Vitamin C serum. This is currently (as of Jan 2022') and Trueskin Vitamin C is currently the #1 best selling Vitamin C serum on Amazon. Is it quality? Is it price? Let's take a look and see if this is the right serum for you.
Trueskin Vitamin C serum at a glance:
Benefit: Anti-aging, Collagen Boosting

Container Type: Bottle

Ingredient: Aloe, Hyaluronic Acid, Jojoba Oil, Vitamin C, Vitamin E, Witch Hazel

Skin Type: For All Skin Types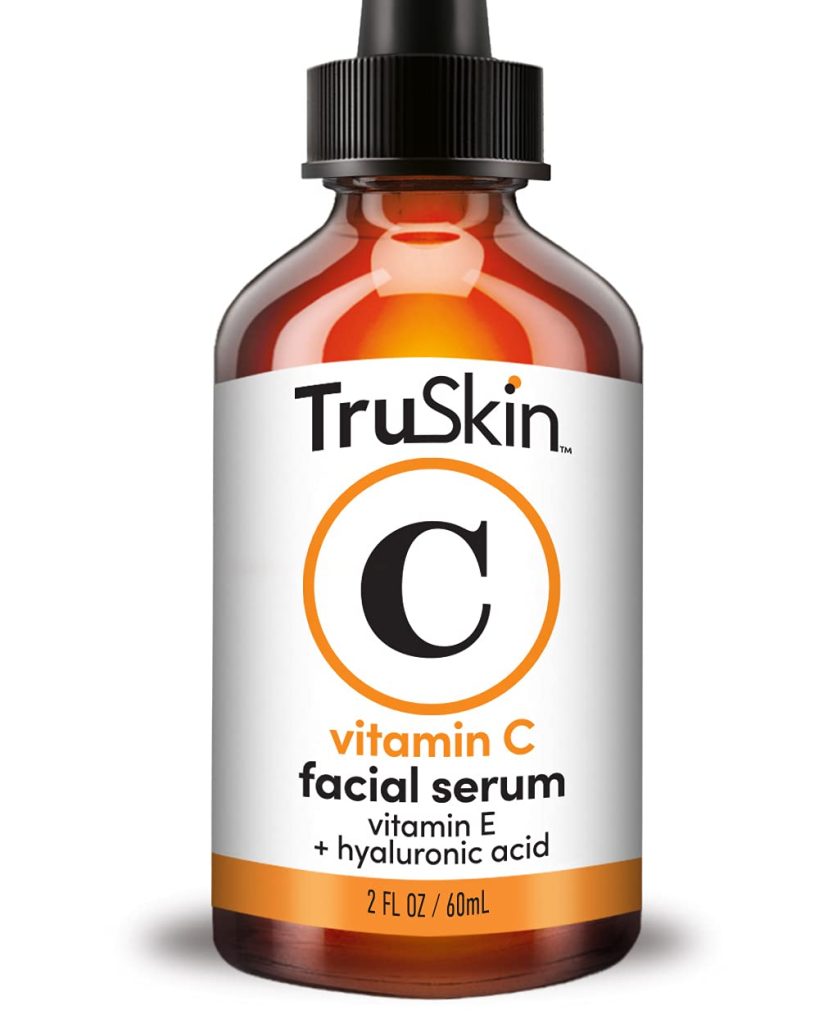 TRUESKIN VITAMIN C SERUM BENEFITS
Fights Free Radicals Vitamin C, vitamin E, and hyaluronic acid are shown to work synergistically to neutralize free radical damage, helping ward off premature aging.

Brightens and Evens Tone Vitamin C is famous for evening out dark spots and enhancing skin's natural radiance, thanks to its reputation for inhibiting melanin.

Reduces Signs of Aging By supporting collagen and elastin, this potent antioxidant blend promotes healthy elasticity to boost firmness and soften the look of fine lines.
WHAT'S IN TRUESKIN VITAMIN C SERUM? INGREDIENT BENEFITS.
Aloe: Aloe vera is a common household plant known for its skin healing properties. Using aloe vera on the face can help moisturize skin.
Hyaluronic Acid: A substance that helps the skin hold on to water. Helps hydrate the outer layers of skin, thereby improving the skin's appearance. Skin that's hydrated is touted as being more radiant and youthful-looking.
Jojoba Oil: Jojoba oil has a variety of healing properties that may make it effective in treating skin conditions like acne, eczema, and psoriasis. You can enjoy its benefits by using it as a cleanser, moisturizer, or spot treatment. It can typically be used anywhere on your body, including your face, without being diluted.
Vitamin C: Vitamin C (ascorbic acid) plays an important role in maintaining skin health and can promote the differentiation of keratinocytes and decrease melanin synthesis, leading to antioxidant protection against UV-induced photodamage.
Vitamin E: Vitamin E is a powerful antioxidant that may be effective at reducing UV damage in skin. And vitamin E applied topically may help nourish and protect your skin from damage caused by free radicals.
Witch Hazel:  Witch hazel has many benefits for skin, including relieving inflammation, tightening pores, and helping with razor bumps. It may also help reduce acne, since it can cleanse your skin of excess oil. However, witch hazel should not be used by people with dry or extremely sensitive skin since it can cause irritation.
HOW OFTEN SHOULD YOU USE TRUESKIN VITAMIN C SERUM?
We recommend using the serum consistently both day and night for an extended period of time. Vitamin C is a powerful antioxidant that helps fight free radical damage from sun exposure. 
DERMATOLOGIST REVIEW