Androgenetic alopecia or male pattern baldness is the commonest cause of hair loss and balding in both men and women. The hormone DHT or dihydrotestosterone produced in the body is responsible for this type of hair fall and ultimately leads to baldness. DHT accumulates in the scalp and miniaturizes hair follicles and ultimately kills the hair follicles, which are sensitive to it. Lucky people are those who do not have DHT sensitive hair follicles. This sensitivity depends on hereditary or genetic factors. We will highlight the natural remedies for hair loss that reduces the DHT levels in a scalp or prevents its accumulation and damage by splitting the topic into three methods.
Increase blood circulation to prevent accumulation in the scalp.
Provide essential nutrients to damaged hair follicles.
Reduced DHT levels in the scalp.
Good blood circulation is very important to carry the nutrients to hair follicles and it also prevents DHT accumulation in the scalp. To increase blood circulation at the scalp, you can perform the following task. One, head massage gently massaging your scalp in circular motion and pressures can improve the blood flow to the scalp hair follicles perform head massage at least twice daily. Two, yoga, especially the head down position called Sirsasana is very beneficial to increase blood flow suddenly to scalp and wash out any accumulated DHT and prevent damage to hair follicles. Be in this position for at least one minute and perform three sets of this yoga once daily. Three, regular exercise of at least 30 minutes daily like jogging, treadmill, pushups, or any kind of activity is proven to be beneficial to improve blood circulation. Four, provide some essential nutrients to rejuvenate the damaged and we care follicles. Nutrients are carried to hair follicles through the bloodstream and hence apart from eating a well balanced diet, you need to include a few foods in your diet, rich in protein, minerals and the antioxidants like eggs, nuts, green vegetables, whole grains, lentils, etc. Then avoid alcohol consumption and smoking, and if you're dieting in order to lose weight, then do not overdo it as it can cause hair thinning due to nutritional deficiencies. Here are some some natural ways to reduce DHT levels in the blood.
Stress and sleep deprivation can accelerate hair loss, so keep your stress levels low and have a sound sleep of at least eight hours daily.
Regular exercise has been shown to lower DHT levels, perform any form of exercise for at least 30 minutes daily.
Saw Palmetto studies have shown that this naturally occurring substance blocks the enzyme five alpha reductase and hence reduces DHT. Saw Palmetto is approved in many countries and you can get capsules of this substance along with multivitamin and zinc, magnesium supplements.
Foods that lower DHT levels.
Starting at number 10, beans and soybeans. Beans are an excellent and inexpensive source of zinc, which helps in hair growth and hair repair. Studies have shown that compounds in soybeans may promote hair growth. One of these compounds is sperma Dene, which is abundantly found in soybeans. Meat:  especially red meat is rich in iron. This increases your red blood cell count, which in turn helps the red blood cells deliver oxygen to all cells in the body, including hair follicles. Oysters: Oysters are one of the best sources of zinc and the diet. Zinc helps inherit growth and repair. Seeds: Especially flax seeds and chia seeds. In addition to vitamin E, zinc and selenium also provide Omega three fatty acids and all of these promote hair growth. Nuts: Especially almonds and walnuts provide vitamin E, B complex vitamins, zinc and essential fatty acids, all of which promote hair growth and they are also proven to protect your heart. Avocados: They're not only super delicious, but also an excellent source of vitamin E and also rich in vitamin C, K and Omega three fatty acids. Fatty Fish:  That he fish like salmon, herring, and mackerel are great sources of Omega three fatty acids which have been linked to improved hair growth and even density. Spinach: Spinach is loaded with foliate iron and vitamins a and C, which may promote hair growth. A deficiency in these nutrients may result in hair loss. Spinach is a best plant-based source of iron, especially great for vegetarians. Eggs. Eggs are a great source of protein and biotin, which are also important for healthy hair and hair growth. Eggs are also a great source of zinc, selenium, and other nutrients. This makes them one of the best foods for optimal hair health. Another important nutrient eggs is Biotin is essential for the production of a hair protein called keratin. Research has shown that consuming more biotin can help improve hair growth in people with biotin deficiency. Berries: Berries, loaded with beneficial compounds and vitamins that promote hair growth. This includes vitamin C, which has strong antioxidant properties. For example, strawberries are rich in vitamin C which help in collagen production and iron absorption, which are two factors that can promote hair growth.
Recommended and endorsed by world-renowned trichologist Dr. Antonella Tosti, Revita shampoo delivers incredible ingredients that helps block DHT.
Clinically proven hair loss shampoo; 90% of users reported reduced hair loss.
Hair growth shampoo that helps stimulate hair growth and curb hair loss. Great for hair loss prevention.
Made with a carefully selected blend of natural ingredients.
Stops DHT buildup and is proven to stimulate hair growth & reduce dandruff.
Sulfate free shampoo. It is free of harmful chemicals parabens & SLS.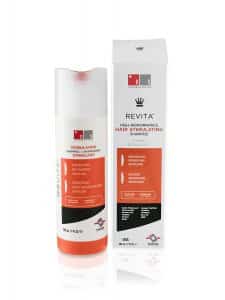 Buy Now & Save 20%
PURA D'OR IS THE LEADER IN HAIR THINNING THERAPY FOR THICKER & FULLER HAIR: PURA D'OR Original Gold Label Anti Hair-Thinning Shampoo w/ Biotin and DHT Herbal Ingredients is proven & tested to reduce hair thinning. It promotes hair strength & thickness with increased volume & reducing breakage. Results may vary.*
IMPROVE YOUR HAIR APPEARANCE: No more bad hair days due to thinning hair and dry scalp. Our anti-hair thinning shampoo w/ Biotin and Proprietary Herbal DHT Blend is here to the rescue. Packed with essential vitamins, our exclusive formula helps hydrate the scalp reducing dryness, brittle strands, and improves hair manageability.
PROTECT & STRENGTHEN YOUR HAIR: Our Key Active Ingredients including Biotin and DHT Herbal Blend protect your hair from further damage caused by external factors that lead to thinning hair. At the same time, these ingredients strengthen the hair shaft and cleanse the scalp, improving the overall health of your hair.
THE ORIGINAL, GOLD STANDARD, UNDISPUTED AND ONLY FORMULA WITH OVER 17+ DHT HERBAL BLEND: The secret to thicker hair is using a shampoo with gentle ingredients. Our formula is packed with a powerful blend of Biotin, Nettle Extract, Pumpkin Seed, & Black Cumin Seed Oil. PURA D'OR is always vegan, cruelty-free & manufactured in an environmentally responsible way.
100% SATISFACTION GUARANTEE: Healthy hair for happy customers. We offer a 100% Satisfaction Guarantee. If you are unsatisfied with our hair thickening shampoo, let us know and we will give you a FULL refund.
BIOTIN FOR HAIR GROWTH this is a thickening shampoo for color treated hair damaged hair and oily scalp. Our natural shampoo has tea tree for dandruff and pure rosemary essential oil for hair growth.
HAIR FOLLICLE STIMULATOR our hair growth shampoo is like a biotin supplement for your hair. It has essential oils for hair growth that help this cleanser to act as a DHT blocker shampoo for regrowth.
NATURAL HAIR VOLUMIZER hair thinning can cause thick hair to look dull and thin hair to look flat. Our root lifting densifying shampoo leaves hair with more body and fullness as well as softness.
DEEPLY CLEANSES HAIR Our volume shampoo acts as an anti-residue shampoo and detoxes oily hair since greasy hair can make fine hair look thinner. It works well when paired with our Biotin Conditioner.
SULFATE FREE SHAMPOO our fine hair shampoo has no sulfates and is paraben free so it won't strip dry hair and dry scalp. it is infused with nourishing pure argan coconut evening primrose and jojoba.
TOP RATED 2020 SHAMPOO FOR HAIR REGROWTH STIMULATION
Contains highly effective CaffinoPlex blend designed and researched to aid in healthy hair growth
Contains powerful caffeine compounds which have been shown to reduce hair loss, stimulate hair growth and block effects of testosterone within the skin
Most effective topically available shampoo formula for men and women
Made in the USA & Cruelty free (Never tested on animals)
CAFFEINE SHAMPOO FOR STRONGER HAIR: Alpecin's C1 Caffeine Shampoo recharges your hair & cleanses the scalp to promotes natural hair growth. Alpecin helps energize your hair and makes it feel fuller.
GERMAN ENGINEERING FOR YOUR HAIR: Alpecin C1 Caffeine Shampoo is a German caffeine shampoo for men. Carefully formulated, Alpecin C1 helps restore hair's quality, strength, & thickness, leaving your hair clean.
ENCOURAGE HAIR GROWTH: Some activities and supplements can cause weak hair, or thinning. Alpecin caffeine shampoo was designed to increase & restore energy to weakened hair, helping to promote thicker, fuller feeling hair.
DOPING FOR YOUR HAIR: Energize your hair and scalp with caffeine shampoo. Caffeine helps your hair feel stronger, while energizing your scalp. Increase the quality, and strength of your hair with Alpecin hair care.
PROFESSIONAL HAIR AND SCALP CLEANSER SHAMPOO for fine, non chemically treated hair with light thinning
DETOXIFYING SHAMPOO leaves hair growing healthily with body, volume and shine
CLEANSING SHAMPOO removes product build up, minerals, pollutants and toxins
CLEARS NUTRIENTS PATHWAYS at hair follicle sites without stripping essential oils, and provides an optimum scalp environment
DENSITY PROTECTOR Nioxin technology provides hair resilience and smoothing control
Award: Behind the Chair Stylist Choice Winner Favorite Thinning Haircare, 16 consecutive years
For Best Results: Apply to wet hair, gently massage into scalp and hair, lather 1 minute, rinse thoroughly, use daily
Use in combination with Nioxin System 1 Scalp Therapy Conditioner plus Scalp and Hair Treatment
Enroll in Subscribe and Save to ensure you never run out!
PROMOTES NATURAL HAIR REGROWTH ON ALL HAIR TYPES – Premium Sulfate Free DHT blocker shampoo is designed to naturally help fight thinning hair due to hormonal imbalance, male pattern balding, receding hairline, postpartum, thyroid symptoms, and scalp conditions with patented ProcapilTM, BaicapilTM, Biotin, Keratin and many more. Botanicals, antioxidants & vitamins help clean the scalp and strengthen the follicle metabolism to create the optimal environment for hair regrowth in both men and women of any hair type and ethnicity.
THE DRUG FREE SOLUTION – Patented ingredients in this shampoo helps to rid the scalp of DHT, improve circulation, prevent fungal buildup, stimulate the growth phase and strengthen follicle anchoring for less shedding. Procapil, helps prevent the hair follicle from ageing, and has been shown to be just as effective as a leading vasodilator drug. Biotin is a powerful B-vitamin that promotes a healthy environment for thicker, stronger and healthier hair. Great results without harmful drugs.
FIND YOUR SHINE WITH CASTOR AND COCONUT OILS – Adds volume, shine and vital moisture each strand of hair. This botanical blend of natural ingredients provides the vitamins and essential fatty acids to help nourish the scalp at the follicle level and through-out the entire length of hair for a thicker, fuller look and feel. These clean oils leave hair looking full, smooth and shiny through-out the day.
MADE IN THE USA! – Taking hair care seriously means we manufacture our products under the stringent good manufacturing practices found only in the USA. We are proud to offer a vitamin enriched shampoo that is Paraben-Free, Hormone-Free, Alcohol-Free, Gluten-Free, Yeast-Free and Dairy-Free. To further our commitment to health, our shampoo is cruelty-free (we do not test our products on animals).
100% HAPPINESS GUARANTEE – We take pride in our products and we care about your journey to amazing hair. It can take up to 60 ~ 90 days for your hair to go through its normal cycle before you start seeing results. To help educate and facilitate regrowth process, we offer a FREE hair growth guide with each purchase. If after 60 ~ 90 days, you are still unhappy for any reason, we will refund your money, it's that simple.