When it comes to hair loss, if you're researching this option and have come across this page, it's because you've dug quite deep. When it comes to hair loss and hair regrowth, these are two very popular options. When it comes to Rogaine, that is THE name in hair regrowth and product that most consumers search for. So, let's take a look at both of these options and see which may be the right one for you. If you've been dealing with hair loss or thinning hair, chances are you may have already tested minoxidil, which is the main ingredient in Rogaine. However, Spectral.DNC-N is a more novel product with a lot more ingredients. Let's get to it.
ABOUT ROGAINE
Rogaine is the most popular hair regrowth treatment in the United States. That is starting to change somewhat as other companies selling regular minoxidil have come to the market and market hair loss in a big way using the one main ingredient that's been around since the 70's, that is minoxidil. Minoxidil solution (Rogaine) and foam are used to help hair growth in the treatment of male pattern baldness. It is not used for baldness at the front of the scalp or receding hairline in men. The foam and 2 percent minoxidil solution is also used to help hair growth in women with thinning hair. Minoxidil belongs to a class of drugs known as vasodilators. It is not known how minoxidil causes hair growth. This medication is not used for sudden/patchy hair loss, unexplained hair loss (for example, if you have no family history of hair loss), or hair loss after giving birth. Do not use this product if you are 18 years old or younger.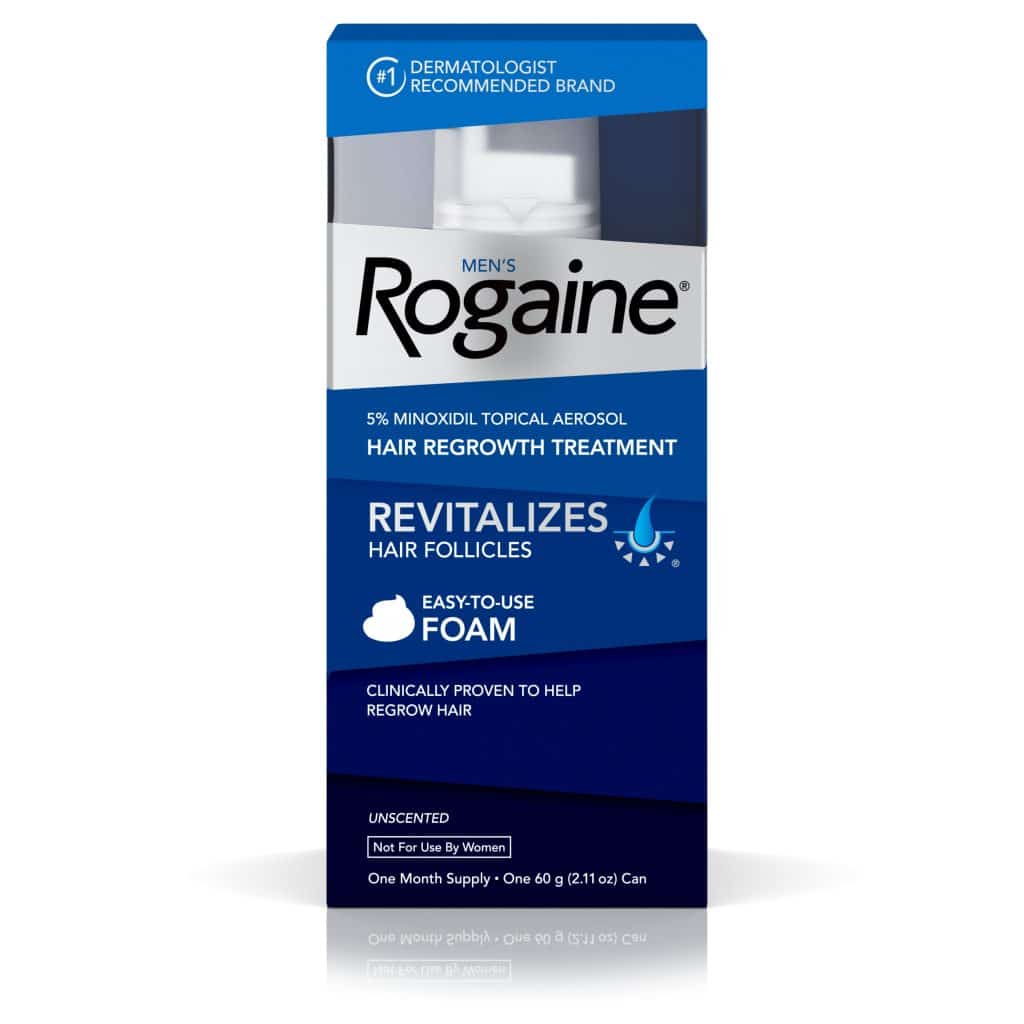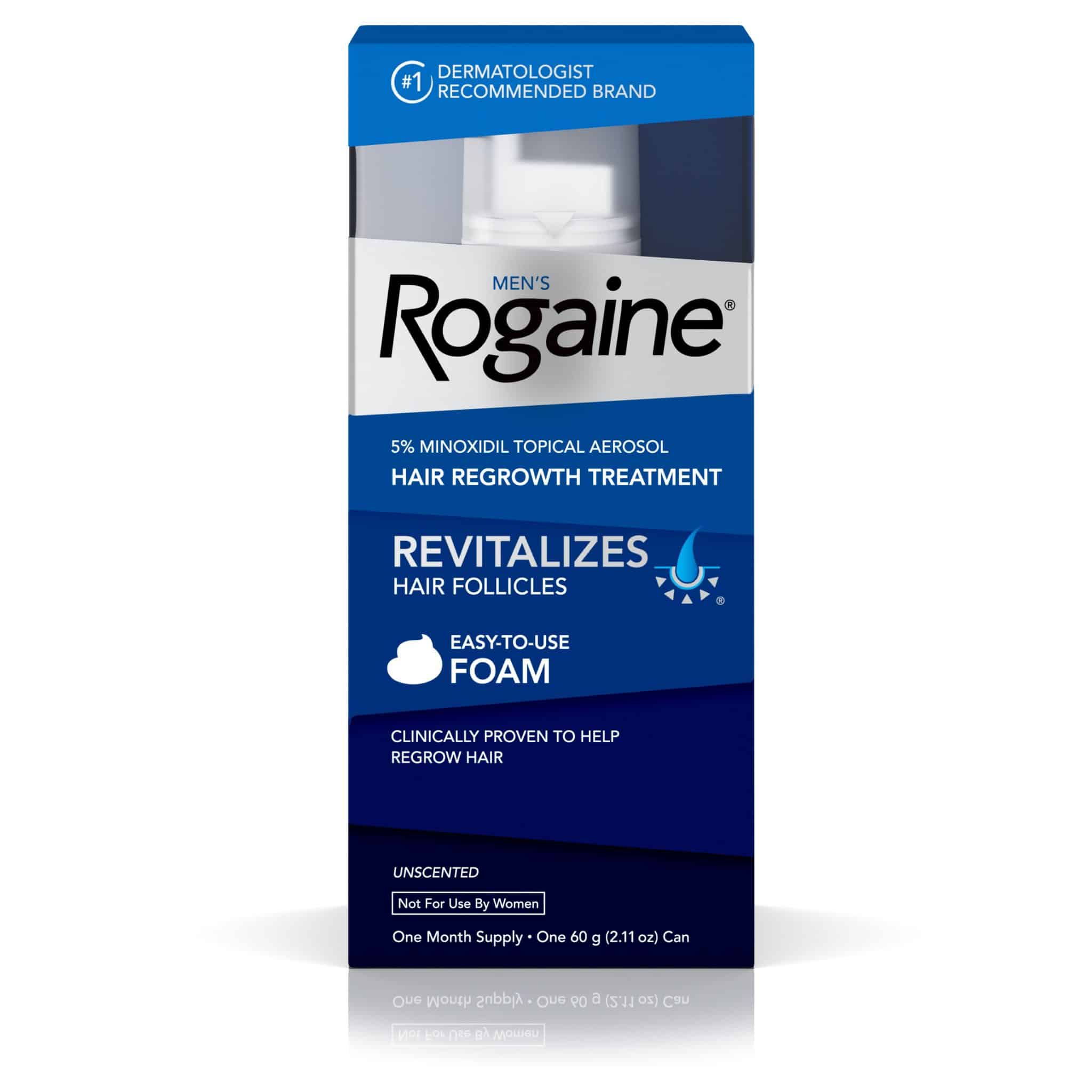 DOES ROGAINE ACTUALLY WORK?
Rogaine does work to some extent as evidenced by clinical studies, but only for certain types of baldness and only if you keep up with its application. But it won't work for everyone. If it does work, you probably won't grow back all of the hair you've lost, and it can take up to four months to see results.
WHAT ARE THE SIDE EFFECTS TO USING ROGAINE?
Rogaine (minoxidil) has different effects on different people. Here are some known side effects:
scalp sensitivity.
skin dryness.
skin flaking.
irritation or burning sensation at and around the application site.
increased heart rate.
IS MINOXIDIL PET-SAFE?
No. You should keep away pets from minoxidil as it has been known to cause harm to cats.
DO I HAVE TO KEEP USING ROGAINE DAILY?
Rogaine continues to work to stop hair loss indefinitely. That means, according to the studies, that as long as you continue to use Rogaine daily, you will continue to see its results.
HOW QUICKLY DOES ROGAINE WORK?
In conclusion, minoxidil starts working immediately, but won't produce any noticeable results for the first three to six months. After six months, you should start to see some improvement, with the "final" results usually visible after approximately one year of continuous usage.
ROGAINE VIDEO REVIEW
---
Spectral.DNC-N® is the first topical hair-loss treatment to employ 5% Nanoxidil®, a powerful new alternative to Minoxidil, a compound with high efficacy, low molecular weight, and no known side effects. It arms men and women with a powerful new tool against hair loss. The compounds used in Spectral.DNC-N, have shown in various clinical studies to promote hair growth and prevent hair loss through opening ion channels within cells, suppress dihydrotestosterone (DHT), prevent perifollicular fibrosis, provide antioxidant effects, prolong the anagen phase of hair follicles, increase expression of vascular endothelial growth factor, suppress protein-kinase-C (PKC) isozymes, and block chronic inflammation.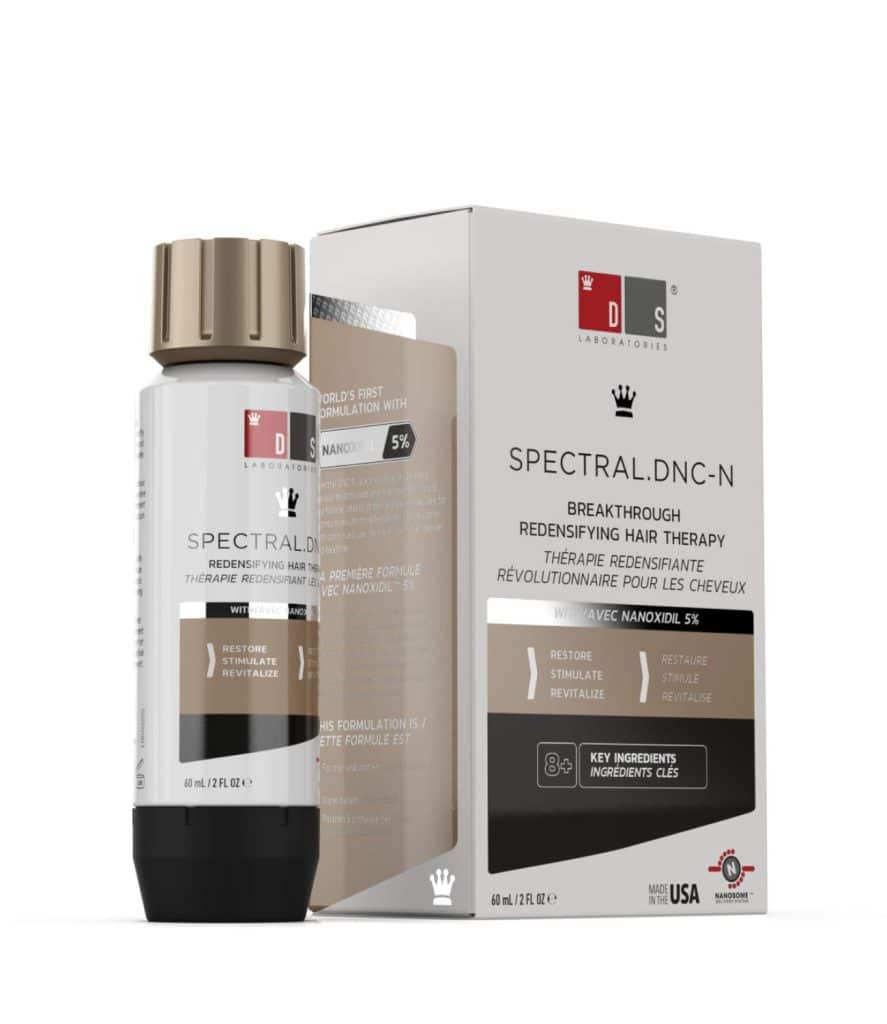 DOES SPECTRAL DNC-N WORK?
In multiple studies Spectral. DNC–N has proven to be highly effective:
218 Hairs per square inch count increase in total target area (1)
93% Reduced scalp inflammation (2)
21.7% Hair density improvement (2)
7x Less hair loss (2)
You can see a study published in the National Library of Medicine here that shows very positive results. Click here for study. There was a statistically significant decrease in hair shedding and a corresponding increase in HMI by month 3, which was maintained through month 6. The mean investigator-assessed hair shedding score decreased from 3.5 to 2.0 and the hair mass increased from 75.8 to 84.3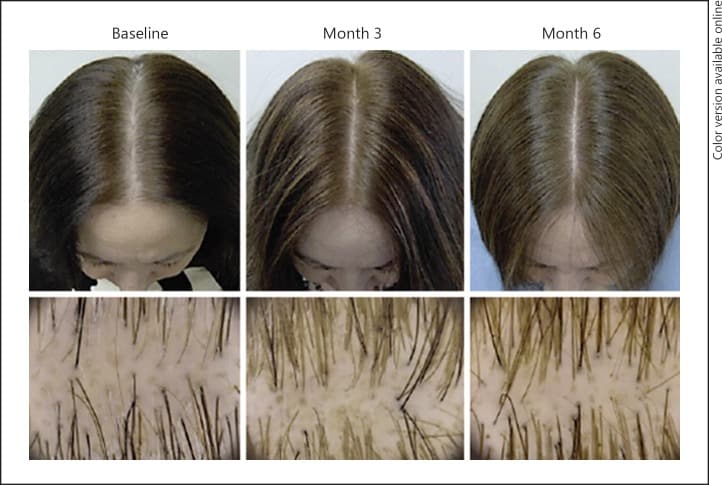 IS NANOXIDIL BETTER THAN MINOXIDIL?
This is a question most consumers doing this comparison research really want to know. The truth is different treatments work for different people. It's also important to note that consumers use more than 1 product for hair loss so both are used in combination with others. Also, Minoxidil CAN BE used with Nanoxidil which may be a good combination as hair loss treatment.
Compare the key differences below:
| Comparison | | |
| --- | --- | --- |
| Treatment | For Hair Regrowth Only in the Vertex Area Male & Female Pattern Baldness | For Hair Loss & Hair Growth on the Entire Scalp Including the Hair line Male & Female Pattern Baldness Alopecia Areata |
| Active Ingredients | Minoxidil | Nanoxidil Myristoyl Pentapeptide-17 Copper Peptide-1 Caffeine 5 More+ |
| Side Effects | Dizziness Drowsiness Temporary Edema (Swelling) Hypertrichosis (Facial Hair) Scalp Irritation Flushing | No known side effects |
| Usability | Side effects Greasy Scalp irritation | No known side effects Water-based formula (non-greasy) |
| Safe For Pets | No | Yes |
| Molecular Comparison | | |
BEFORE AND AFTER RESULTS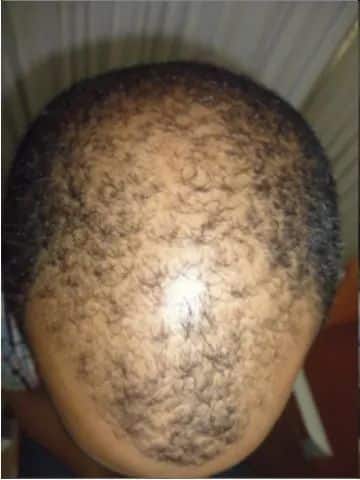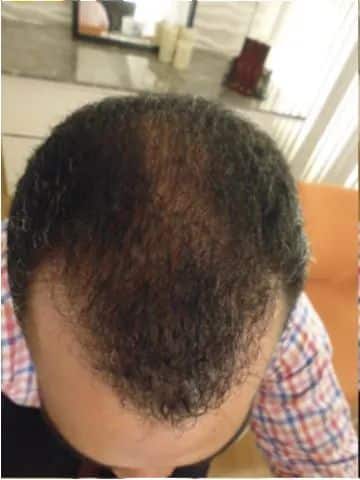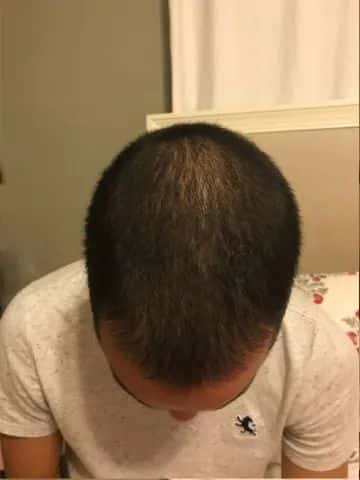 IS NANOXIDIL SAFE FOR PETS?
The short answer, is yes. From what we've seen from consumers, it's safe for pets to be around. DO NOT use on pets.
HOW DO YOU APPLY SPECTRAL.DNC-N?
Apply six sprays of Spectral DNC-N® twice per day directly in the area of compromised hair. Massage evenly. Do not rinse. Wash your hands with soap and water immediately after use.
Video Review
WHAT WE RECOMMEND:
Whether you decide to go with Rogaine (minoxidil) or Spectral.DNC-N, for BEST RESULTS, use a derma roller.