A brand we'll be covering a lot on SeekingDerma is DS Laboratories. Why? DS Laboratories, while it may have been around for quite some time, approximately a little over 10 years now, has a lot of credibility with dermatologists around the world.
DS Laboratories has gained popularity for three main products they produce. Revita hair stimulating shampoo and conditioner, Spectral.DNC-N anti-hair loss serum, and Spectral.Lash eyelash growth serum.
DS Laboratories has created Spectral.DNC-N which is the modern alternative to minoxidil in its main and proprietary ingredient, Nanoxidil. What is nanoxidil? It is similar to minoxidil but has a lower molecular weight for better absorption and has no known side effects. 
If you're someone that has been using Minoxidil, which is the main ingredient in products like Rogaine, and haven't had much luck with it or has worked for you but over time stopped yielding results, Spectral.DNC-N is a great option to start trying to see if it yields different results.
Spectral.DNC-N has had some really good results within males and females with thinning hair and we'll show you some of that a little later. If you read some of the reviews which we'll go over as well, patients/consumers show really positive results with this product when it comes to hair loss and thinning hair. While NO product in the market works for everyone, and this is no exception, we really like the number of positive reviews this product has across the board throughout different platforms. Again, it's important to note this product does not work for everyone and there are reviews that show just that. 
DS Laboratories products are backed and endorsed by a world-renowned trichologist, dermatologist doctor Antonella Tosti.
Quick Overview on Dr. Tosti:
Antonella Tosti is a physician and scientist with major contributions in the field of dermatology. She is the author of Dermoscopy of Hair and Scalp Disorders, the first hair and scalp dermoscopy (trichoscopy) atlas ever published. Her major contributions do international medicine include research related to various aspects of hair diseases. A new hair disorder described by Antonella Tosti is often referred to as "Tosti alopecia". Her contributions to knowledge about nails include research about video dermoscopy of the hyponychium and the nail plate.
Let's get to it.
What is Spectral.DNC-N?
Spectral.DNC-N® is the first topical hair-loss treatment to employ 5% Nanoxidil®, a powerful new alternative to Minoxidil, a compound with high efficacy, low molecular weight, and no known side effects. It arms men and women with a powerful new tool against hair loss. The compounds used in Spectral.DNC-N, have shown in various clinical studies to promote hair growth and prevent hair loss through opening ion channels within cells, suppress dihydrotestosterone (DHT), prevent perifollicular fibrosis, provide antioxidant effects, prolong the anagen phase of hair follicles, increase expression of vascular endothelial growth factor, suppress protein-kinase-C (PKC) isozymes, and block chronic inflammation.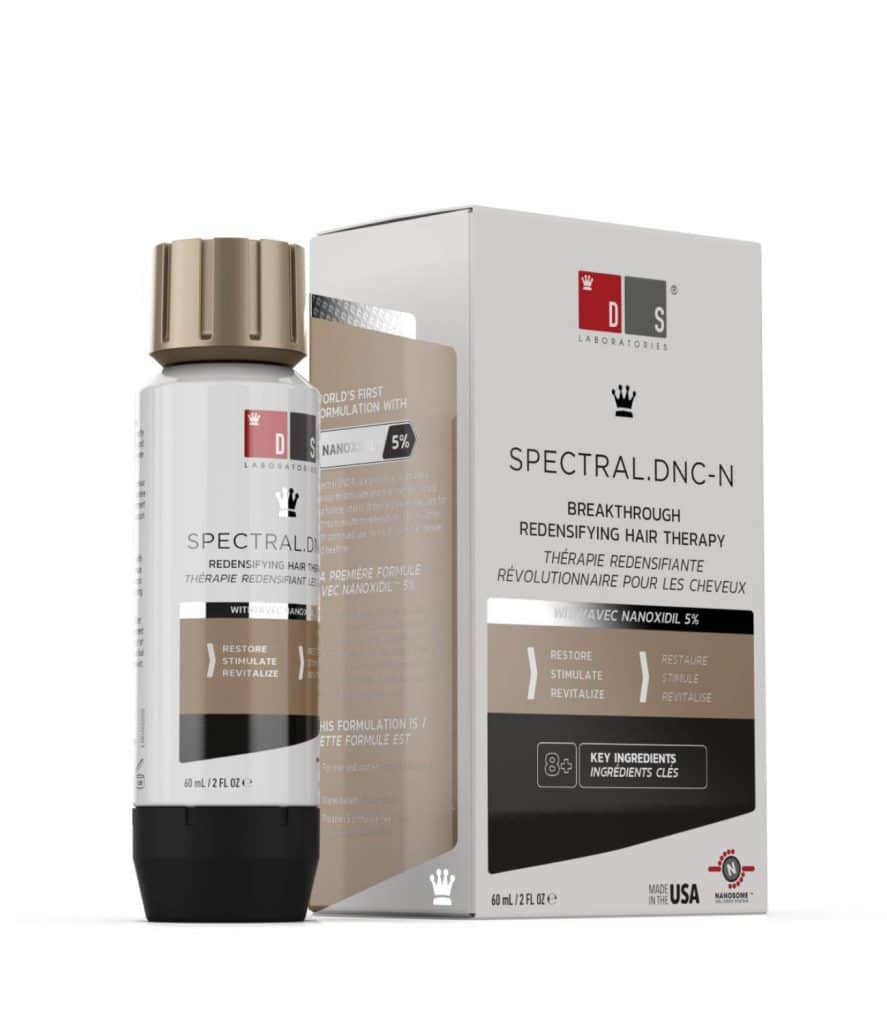 What makes Spectral.DNC-N (Nanoxidil) different than Minoxidil?
There are a couple of different components between Nanoxidil and Minoxidil which are very important to note.
Nanoxidil helps treat both the crown and frontal part of the scalp whereas Minoxidil is only used for crown hair regrowth. This makes a very big difference in the treatment of hair loss for both men and women.
Nanoxidil has no known side effects whereas Minoxidil is known to have several side effects which makes the ingredient not so pleasant to use for treating hair loss.
Potential side effects of Minoxidil:
Acne at the site of application
burning of scalp
facial hair growth
increased hair loss
inflammation or soreness at root of hair
reddened skin
swelling of face
Spectral.DNC-N Ingredients:
NANOXIDIL 5%
Adenosine
Caffeine
Copper tripeptide 1
Lypophosphatidic acid
Retinol
Azelaic acid
Piroctone olamine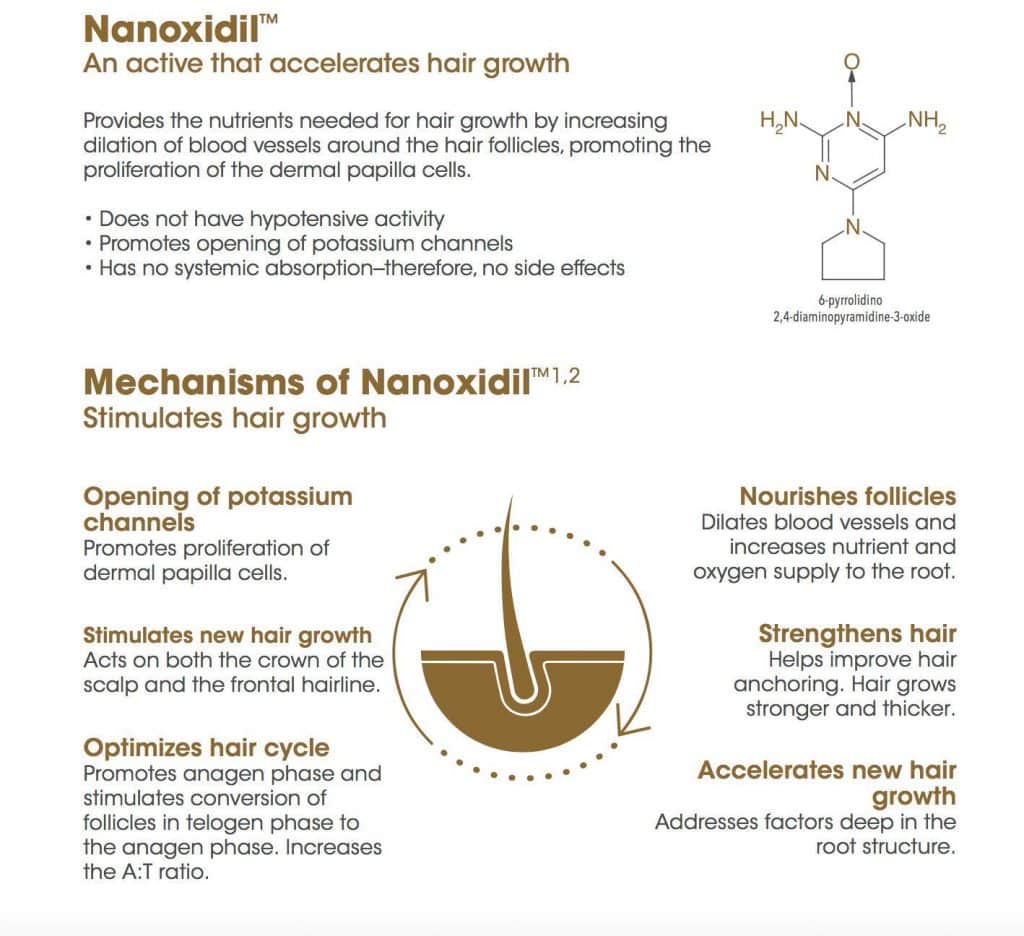 Key Benefits of Spectral.DNC-N:
5% NANOXIDIL TOPICAL TREATMENT FOR HAIR LOSS. Alternative to Minoxidil developed first by DS Laboratories, Nanoxidil employs a complex matrix to open ion channels in hair follicles, with a lighter molecular weight to enhance its bioavailability.
WATER-BASED FORMULA (NON-GREASY). Unlike Minoxidil, our formula is Propylene glycol free, an agent that commonly causes irritation and contact dermatitis, with even more frequent complaints that causes greasy hair.
BLOCKS DHT FORMATION. DHT is a major cause and the responsible for male pattern hair loss linked to genetics and aging. Caffeine and Azelaic Acid block the conversion from testosterone to DHT.
PREVENTS HAIR LOSS. Our exclusive formula helps stop hair loss, and stop the natural progression, in some cases, it can help grow new hair.
ADVANCED NANOSOME DELIVERY OF INGREDIENTS. Our proprietary Nanosome delivery technology encapsulates key compounds in microscopic liposomes to penetrate deeper into epidermal cells for maximum hair growth results.