If you've landed on this page, you're probably doing research into dealing with hair loss and/or thinning or, or atleast looking into preventing it. These brands, Rogaine, Keeps, and Hims are leading brands in the hair loss space when it comes to traditional products used in the market for many years, it's basically traditional MINOXIDIL 5%.
For many years, until present day, Minoxidil 5% is still the #1 ingredient recommended by dermatologists for hair loss and thinning hair, more specifically for men. Usually, for women, a 2% minoxidil solution is recommended. 
WHAT IS MINOXIDIL 5%?
A scalp enzyme called sulfotransferase converts the minoxidil
into a salt called minoxidil sulfate. It works by shortening the telogen, or resting, phase of the hair and causes the hair to enter the anagen or growing stage. There is some evidence that minoxidil can increase the thickness of the hair.
Minoxidil does not cross the blood-brain barrier, and a person's kidneys filter 95% of this drug within 4 days.
People may not notice any difference in their hair until they use minoxidil for at least 8 weeks.
Minoxidil is usually recommended for anyone dealing with male and female pattern baldness. 
IS MINOXIDIL 5% OF THE MAIN INGREDIENT IN KEEPS, HIMS, AND ROGAINE?
YES. In essence, these brands and product promote the same ingredient which is the minoxidil 5% solution. What HIMS and KEEPS did was bring a old taboo ingredient which was Rogaine and made it popular in a subscription model and make it sexy and easy to talk about.
It's important to note that both HIMS and KEEPS since inception have created other products such as finasteride.
1-month supply of Men's Rogaine 5% Minoxidil Foam hair growth treatment to help treat hair loss, maintain hair density and allow for the regrowth of fuller hair

Formulated with 5% Minoxidil, our fast-working hair regrowth treatment works to boost hair follicle activity and hair protein production and is clinically proven to regrow up to 25% more hair

Men's hair growth treatment also contains botanical extracts and emollient to help maintain a healthy, conditioned scalp, plus alphahydroxy acid (AHA) to promote natural skin exfoliation to help keep follicles open

From the #1 dermatologist-recommended brand, this anti-hair loss foam is ideal for use at the early stages of hair thinning and features Tricho-Prime Technology that works on contact to create a healthy hair regrowth environment

Men's hair growth treatment delivers clinically visible results in as little as 12 weeks and comes in an easy-to-apply foam, specially designed to fit into your daily routine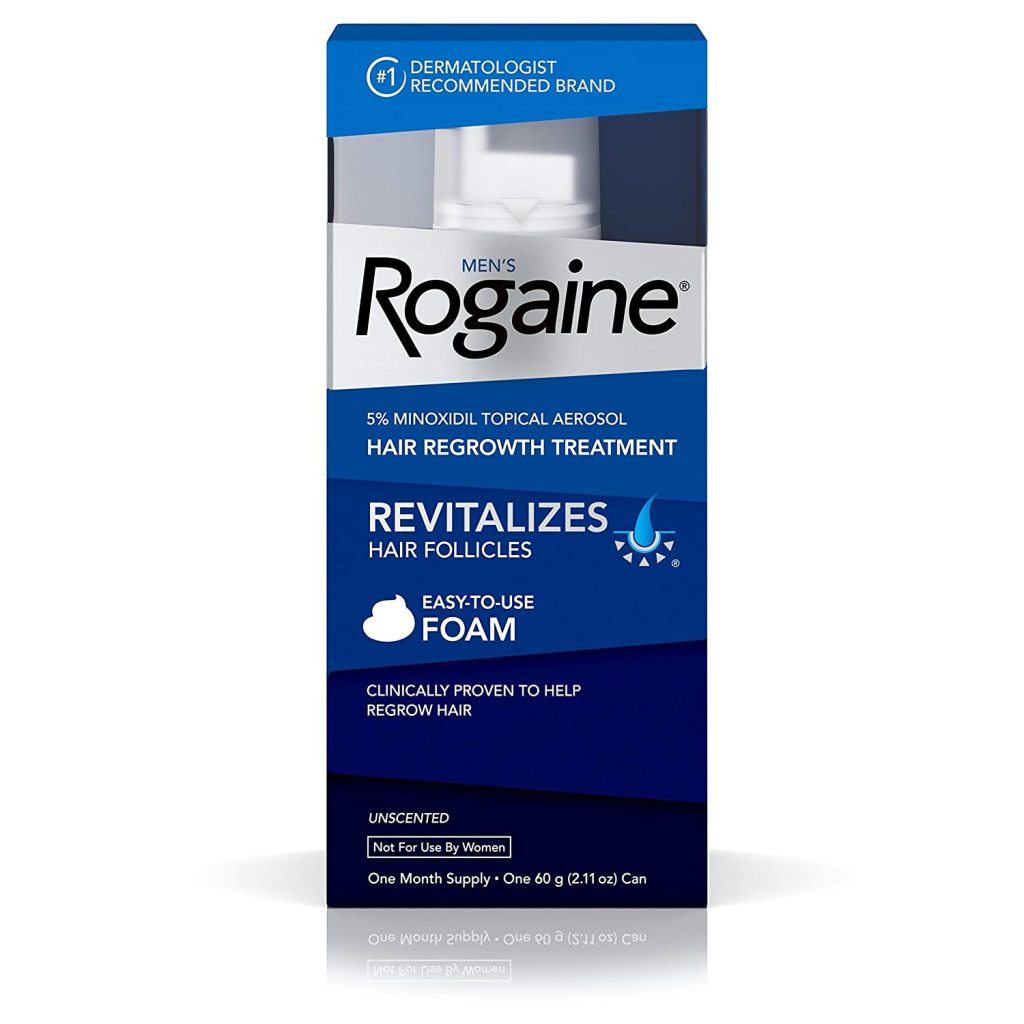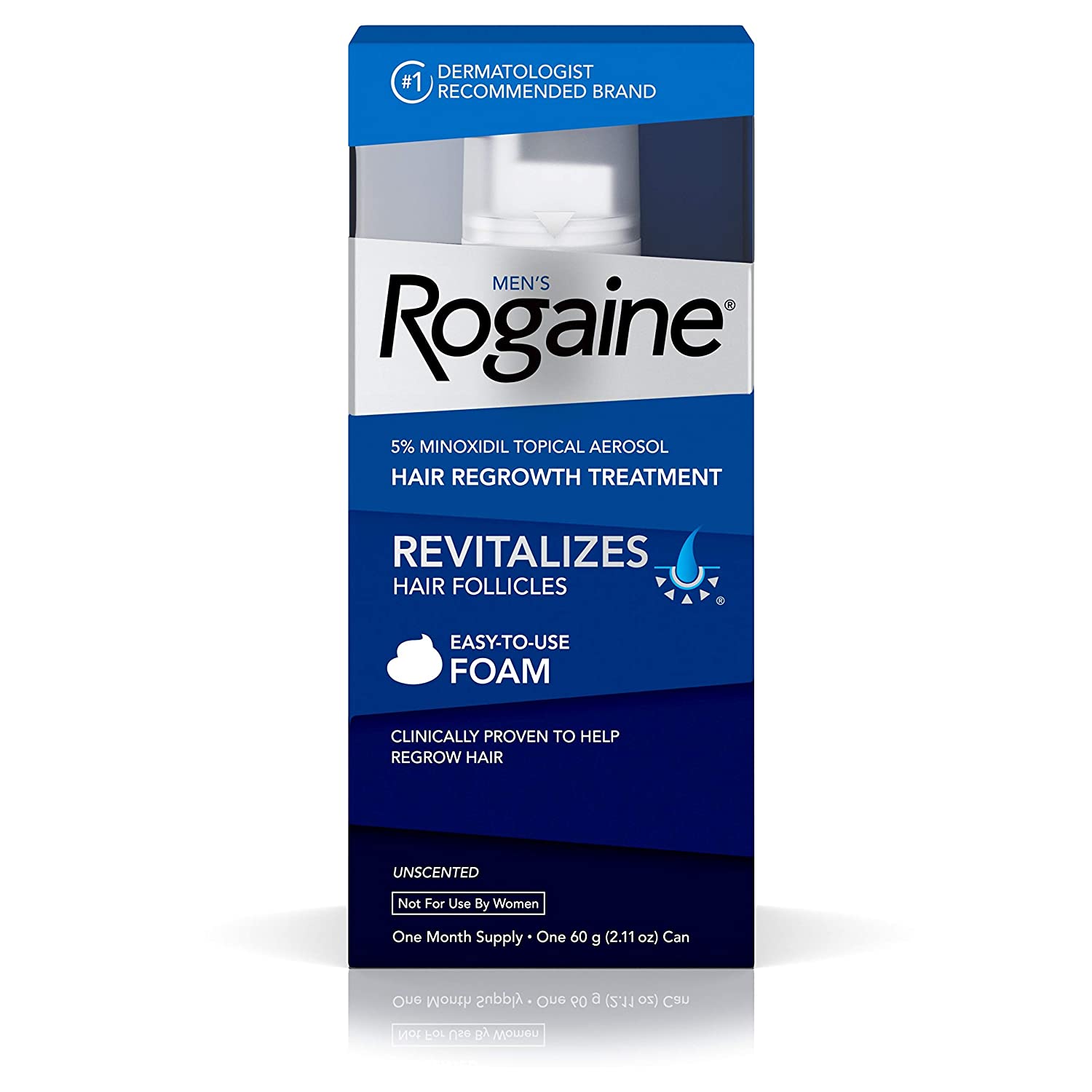 ROGAINE DERMATOLOGIST REVIEW
Minoxidil Foam, 5%
Minoxidil Foam can help you keep a fuller head of hair when it's applied to the scalp two times a day consistently
Apply directly with your hands, works best for the crown and vertex of your head
Helps grow thicker, longer (and just plain more) hair
Initial shedding may occur as the new hairs push out older strands
Expect results in as little as 3-4 months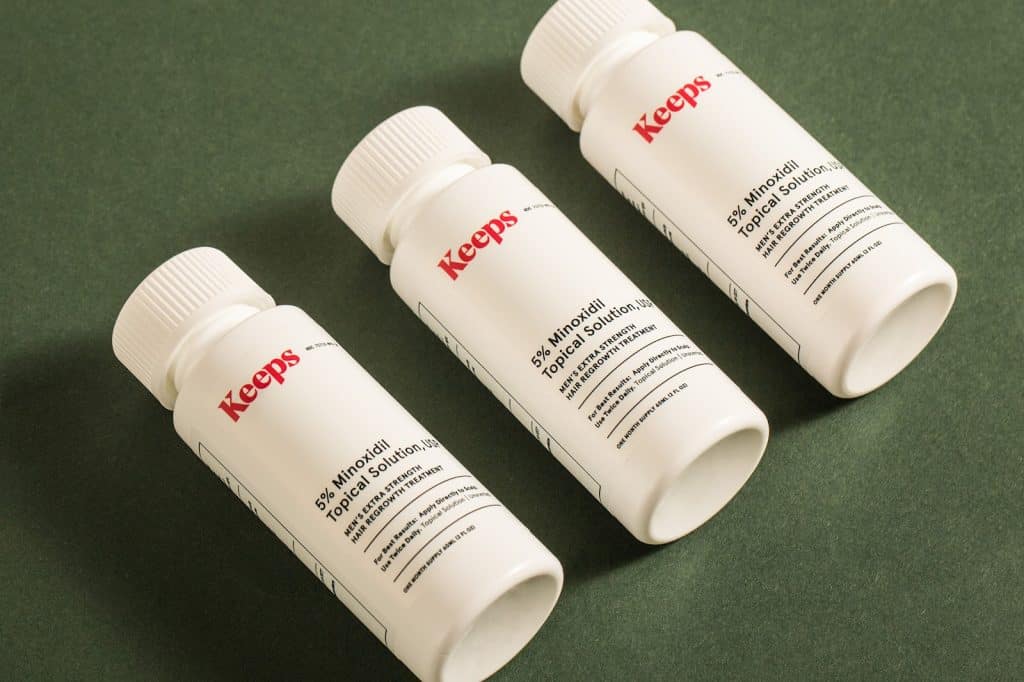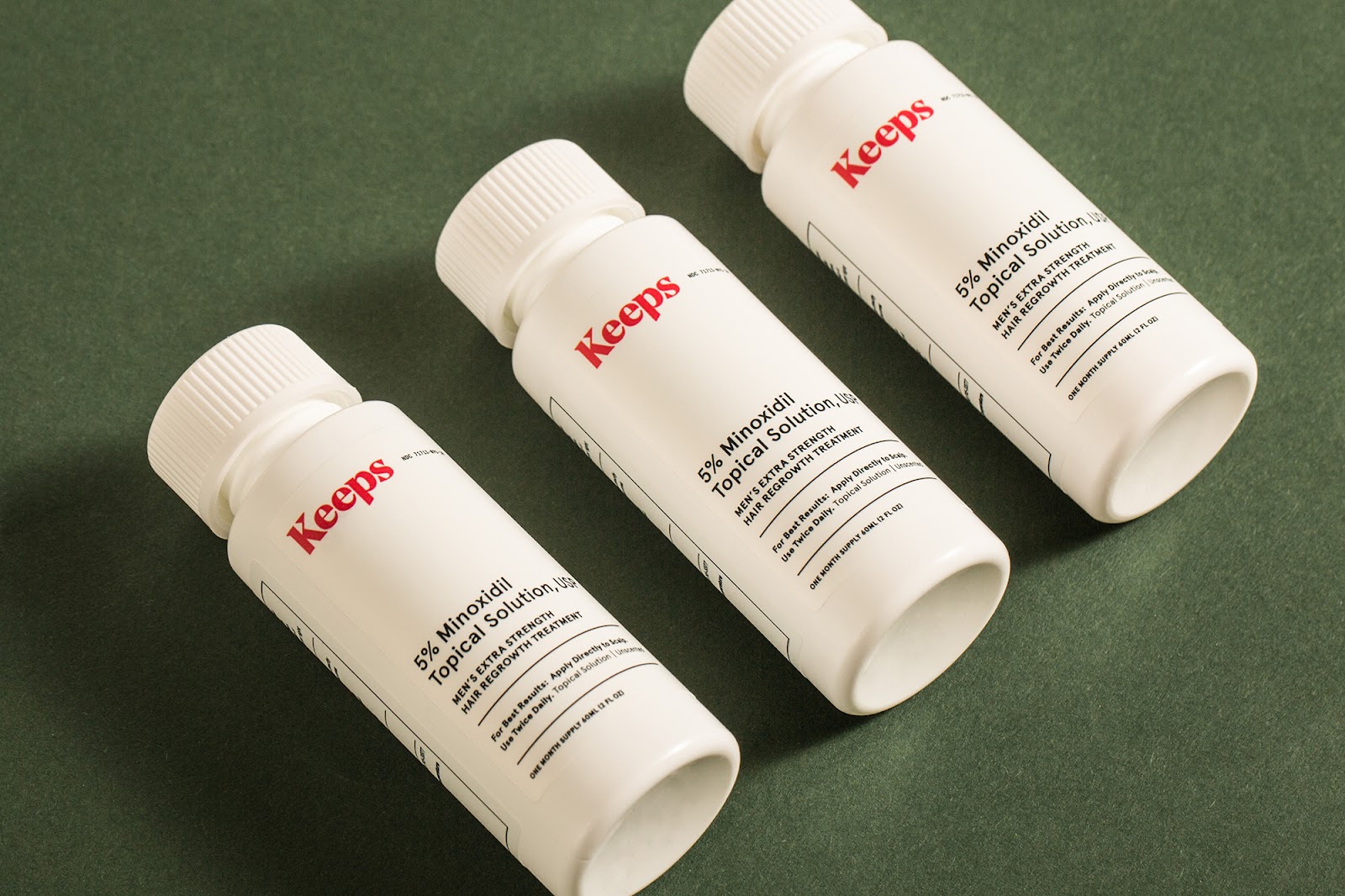 KEEPS VIDEO REVIEW
Look and feel your best with thicker, fuller hair. hims 5% topical minoxidil foam tackles male pattern baldness with an easy-to-use, mess-free formula. It's clinically proven to regrow hair in 3 to 6 months, no pills required

hims minoxidil foam works in 3 clinically proven ways to revive hair follicles and keep your hair looking and feeling thicker over time. While thickening shampoos coat the hair for temporary results, minoxidil penetrates deep into the scalp for real results

hims minoxidil foam starts working by bringing oxygen and nutrients to the scalp with increased blood flow to hair follicles. Hair activates from a resting phase into a growth phase. Finally, it extends this growth phase for longer to sustain growth activity

Start using hims minoxidil foam on dry hair. Apply half a capful of minoxidil directly to the scalp in areas of hair loss or along sections of your hair twice a day. Allow to dry before styling. Wash hands to avoid irritation or ingestion

Being consistent with using hims minoxidil foam is key to maintaining the regrowth you worked hard for. If you stop using it, you will likely lose your regrowth within one to three months. For best results, use minoxidil foam consistently twice a day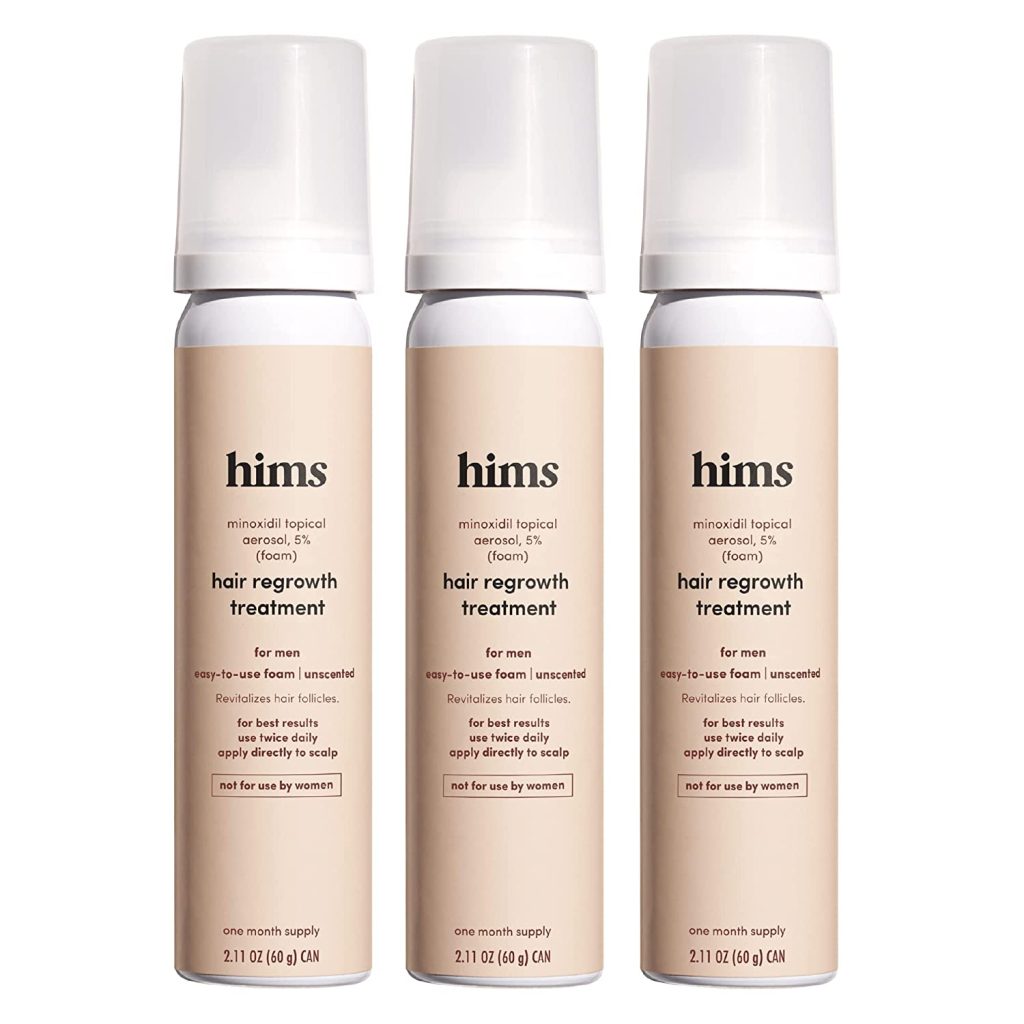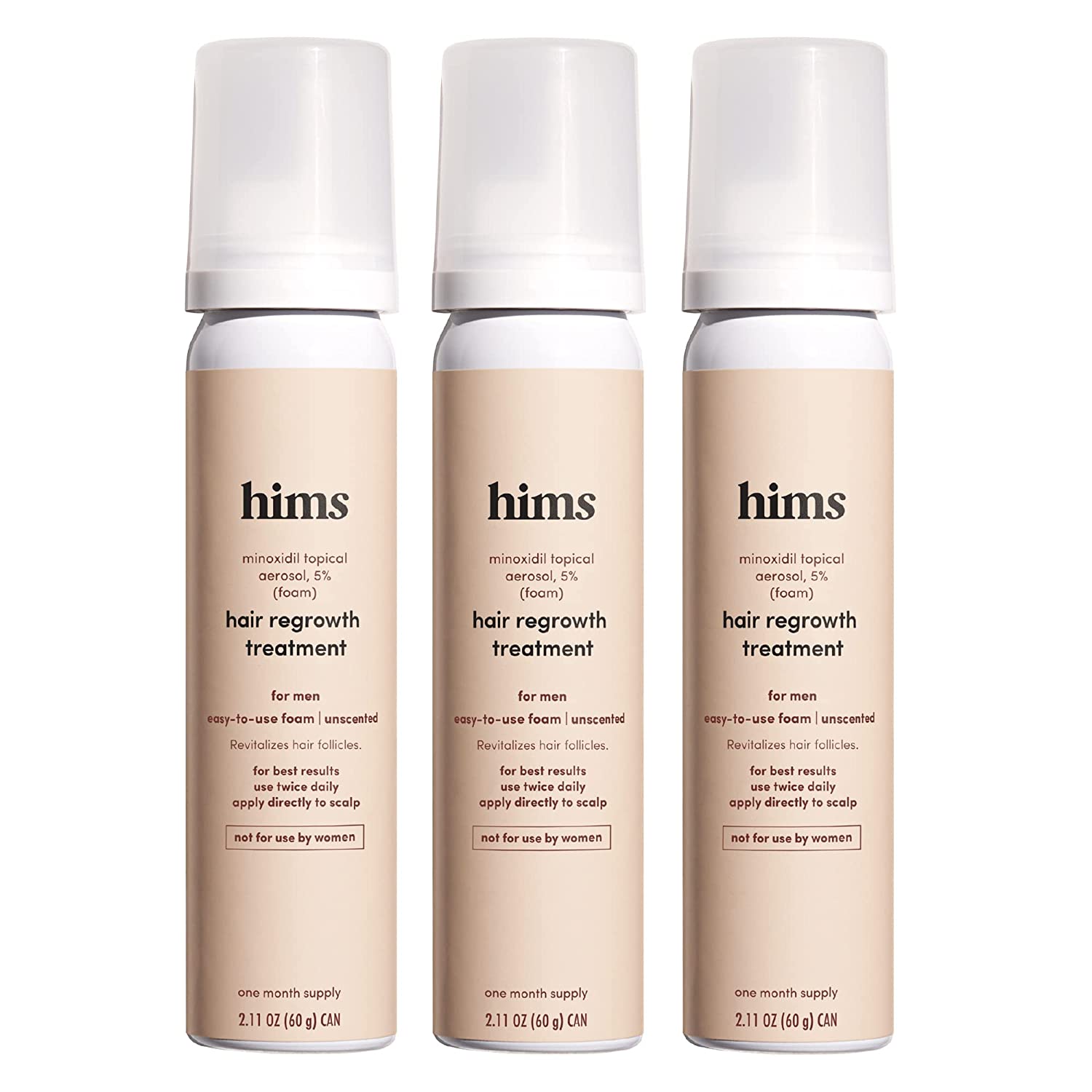 HIMS MINOXIDIL VIDEO REVIEW
Remember, as you see and read the above, it's basically the same product with different pricing and branding. As a solution overall, all these products will essentially do the same for you. It's a matter of brand preference as well as between liquid and foam solution for your minoxidil 5%.