Revita Shampoo vs Ultrax Labs Hair Surge Shampoo: Comparison Review
With dozen's of shampoo's claiming to treat baldness, medically referred to as dihydrotestosterone (DHT). DHT a hormone that can cause hair follicles to become defunct. If you want to stop hair loss, you have to block that DHT. The question is which works the best and what is the difference?
Two-thirds of males experience male pattern baldness before the age of 35. With DHT blocking shampoos ranging from $28 – $80, different brands and manufacturers, complex terminology how do you know which to choose? We are going to breakdown the clear differences between two of the largest brands DS Laboratories and Ultrax Labs, in a simple to read and easy to digest format.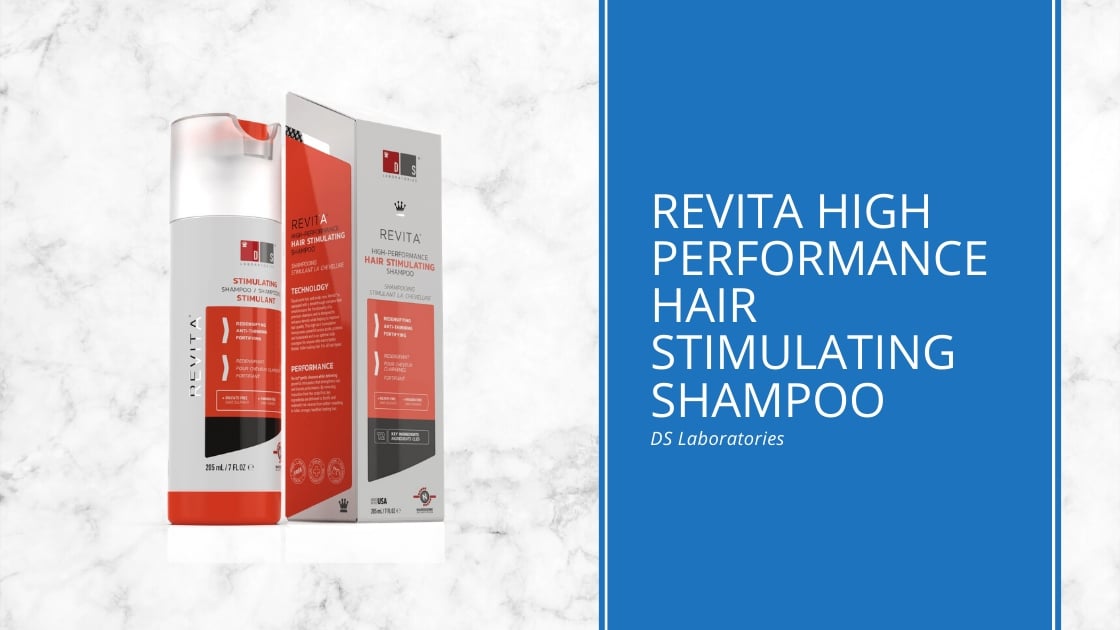 Revita High-Performance Hair Stimulating Shampoo by DS Laboratories
DS Laboratories is the manufacturer behind of one of the most popular hair loss and prevention shampoo brands in the world. With over 15 years in business, DS Laboratories is on a mission to change radically the personal-care landscape by developing technologies that make a meaningful difference in the lives of their customers.
DS Laboratories is a technology company focused on innovation. All of thier products have active ingredients that ensure the best quality and provide high added value in the care of hair and skin problems.
Revita® hair-stimulating shampoo delivers superior results for men and women concerned about hair loss, thinning hair, and androgenic alopecia (female pattern baldness or male pattern baldness). Revita shampoo is formulated to maintain scalp vitality and act against follicular dysfunction, achieving the best results in a short period of time.
What separates DS Laboratories' Revita High-Performance Hair Stimulating Shampoo from the competition is the patented formulation.
ProS
Strengthens hair fibers and reduces shedding
Recommended by Dermatologist worldwide
Backed by scientific studies
Powered by patent-pending Nanosome technology
CONS
While some see results immediately, most say it takes about 60 days for hair regrowth.
What ingredients are in Revita Shampoo?
DS Laboratories compounds 14 key ingredients to prevent DHT. Revita high-performance hair-stimulating shampoo results from exhaustive biotech research into a broad range of unique premium compounds.
This phytochemical concentrate, found in the skin of unripe apples, acts as a potent antioxidant. It protects cells against free radicals. Studies show that after continuous use, an increase of almost 80% percent in hair diameter, plus an increase in total number of hair count is achieved without any side effects.
Caffeine has been shown to potentially reverse the effects of dihydrotestosterone (DHT), the main hormone involved in hair loss. It is also known to increase blood circulation to the scalp and extend the anagen phase.
Taurine is the body's most abundant amino acid. It helps promote keratin production, which makes hair stronger and helps stop premature hair loss. Taurine corrects a damaging rigidification of the connective sheath surrounding piloseba- ceous units, especially those affected by androgenic hair loss.
Ketoconazole has antifungal properties and is clinically proven to fight the conversion of Testosterone to DHT. It reduces scalp irritation caused by fungal colonization or infection, which is crucial to quelling the inflammatory process that occurs in male and female patter balding.
Emu oil is rich in essential fatty acids. Over time, it can revitalize the scalp, stimulate hair growth, and decrease hair loss. Clinical studies also shown that emu oil acts as a 5a-reductase inhibitor and reducing the DHT in the scalp.
Niacinamide is a form of vitamin B3, an essential nutrient that supports many cellular processes. It also plays an important role in preventing inflammation.
Copper Peptides have two main properties as 1) potently protective anti-inflammatory agents that limit oxidative damage after tissue injury, and 2) as tissue remodeling agents. Several studies conducted by research institutes found that copper peptides improved hair transplant success, increased hair follicle size, stimulated hair growth, and reduced hair loss.
L-arginine is a semi-essential amino acid synthesized from L-ornithine. Arginine plus ornithine support protein synthesis because they are both involved in the transport and storage of nitrogen
Rooibos tea has been shown to help increase hair growth, prevent hair loss, and add brilliant shine.
Cystine is an Amino Acid that's part of the Keratin group. Recent, major studies have confirmed that cysteine can reverse hair loss and bring hair growth back to normal rates.
Biotin is a B vitamin that helps the body convert nutrients into energy. It's involved in the synthesis of fatty acids and glucose and is one of the building blocks of thick, healthy hair.
Ornithine is a key enzyme in the synthesis of polyamines, and has recently been shown to promote hair growth, improve strength, and reduce early onset hair loss.
MSM contains sulfur, which is a building block for hair. MSM increases the growth rate of hair and promotes thicker strands.
EUK134 is a mimetic of superoxide dismutase and catalase, creating an exceptionally unique self-regenerating molecule that targets superoxide free radicals. Few products on the market do use this super antioxidant, which can regenerate to offer antioxidant support.
Ultrax Labs Hair Surge Shampoo
Ultrax Labs Hair Surge is one of the most popular hair loss and regrowth shampoos for men and women. If you've stumbled upon this Ultrax Labs Hair Surge review, then you're probably wondering if this hair growth stimulating shampoo actually works, the results you can expect, the ingredients used to make the product, and whether the customer reviews can be trusted to justify the price.
When trying to research Ultrax Labs, there was actually very little to find. The company's website seems to be very outdated and provides almost no insight to the brand's history, products, research, case studies, or medical findings.
With that said, Ultrax Labs Hair Surge Shampoo still remains as one of the more popular products. With nearly 8,000 reviews Ultrax Labs has gained some real traction in the recent years.
Ultrax Labs Hair Surge shampoo says the DHT blocking shampoo contains caffeinated compounds integrated with essential oils and ketoconazole for unrivaled results. Ultrax Labs claims their Hair Surge shampoo has been "meticulously formulated" to work as a complete delivery system.
What's inside ULTRAX LABS HAIR SURGE SHAMPOO​?
Most hair growth shampoo companies takes a standard shampoo and adds a couple of hair supporting ingredients, resulting in those ingredients washing out before they can take effect. The key is what Active Ingredients are used, the combination, and quantify.
Active ingredients:
Caffeine – Studies have shown that when applied transdermally, this powerful ingredient can help extend the life cycle of hair follicles and encourage healthy hair.
Ketoconazole – This powerful anti-inflammatory and anti-fungal ingredient is commonly seen in prescription strength dandruff shampoo's. What wasn't realized until recently is just how powerful this ingredient can be for people with thinning hair. While the exact mechanisms in how it works aren't know, there are ongoing studies that are attempting to pinpoint exactly whats makes ketokanazole so potent.
Saw Palmetto – Clinical trials have shown that Saw Palmetto may block an enzyme, 5-alpha-reductase, which facilitates the change of testosterone into DHT. DHT is considered a major cause for both male and female pattern baldness.
CaffinoPlex™ – This is our proprietary and exclusive combination of Caffeine and Ketoconazole.
Editors note: There is little to be said about CaffinoPlex™. At the time of writing this article, there was no research able to be found about CaffinoPlex™ what it is, how it works, or formulation. When we reached out to the Ultrax Labs, we did not get a response. 
Editors note: In addition to Biotin – Caffeine, Ketoconazole, and Saw Palmetto are the three most popular ingredients in hair loss prevention shampoo.
ProS
A Micro Blend Caffeine shampoo technology that's highly effective
Contains powerful compounds of caffeine which have been shown to stimulate growth of hair, block testosterone effects within the skin and reduce hair loss
90-Day Money back guarantee
CONS
Produces very little lather
Expensive
Small bottle 6 OZ – Less than half of most others
Very thick, compared to a honey-like substance
Citrus-scent lasts long after being washed out
Who can use Ultrax Labs Hair Surge shampoo?
This shampoo can be used by both men and women. It can also be used by anyone, whether they suffer from hair loss or not.
Does Ultrax Labs Hair Surge Shampoo work?
As mentioned above, there are limited clinical studies and case studies. However, many customers have said if you use Ultrax Labs Hair Surge shampoo over an extended period of time many users have seen good results.
How to use Ultrax Labs Hair Surge Shampoo?
According to the manufacturers, Ultrax Labs Hair Surge shampoo should only be used a maximum of five times per week. As ketoconazole can be drying, this is to protect your scalp and hair from over-drying and irritation.
This shampoo is meant to be used in place of other shampoos.
To use, wet your scalp and hair thoroughly. Add the shampoo to your palm, and then massage and lather into the scalp for up to 2 minutes.
Rinse thoroughly.
How much Ultrax Labs Hair Surge Shampoo to use?
Ultrax Labs Hair Surge manufacture recommends the following:
For short hair – 1 Pump
For medium hair – 2 pumps
For long hair – 3 to 4 pumps
It's important to note this can not be combined with other Shampoos unless you are exactly sure of the ingredients and how they work. Many shampoos include an ingredient called Fluconazole which if used in combination with Ketoconazole will cancel the ability for Ketoconazole to work correctly.
Side Effects of Ultrax Labs Hair Surge Shampoo and Considerations
The various oils within the Ultrax Labs Hair Surge Shampoo can mean a range of side effects are possible. These can range from mild to severe.
The most common side effects include itching, irritation, and redness at the site of application. These are the signs of sensitivity, and the product should be discontinued if these persist or worsen with use.
It's also possible, though rare, to suffer from a severe allergic reaction (known as anaphylaxis). This can fatal if not treated immediately. The symptoms include:
Hives
Redness
Itching
Nausea and/or vomiting
Difficulty breathing
Wheezing
Swelling of the mouth, lips, tongue, throat, and/or cheeks
Trembles and seizures
If you experience such a reaction, seek emergency medical attention immediately.
Women who are pregnant or nursing should avoid use of this shampoo, unless discussed with your doctor. One of the ingredients within the shampoo – saw palmetto – can also interact with birth control pills and anticoagulants. If you take either of these drugs, speak with your doctor before use.
Is Ultrax Labs Hair Surge Right for You?
With almost 8,000 customer reviews, there's no doubt that Hair Surge Shampoo is a strong contender among hair loss shampoos. But is it the right one for you?
As with any choice, there are pros and cons. For example, many Hair Surge consumers mention experiencing positive results, including hair growth and thickening. They also see a general change in their hair and scalp health.
However, as with any product on the market, not all consumers were happy with the results. These include those who saw no noticeable growth over months of use, or who experienced dried out, brittle hair.