If you're in the market for a rosacea solution, you have a good option in Prosacea Rosacea gel.
What is Rosacea?
Rosacea is a very common condition that affects approximately 3 million Americans yearly. A condition that causes redness and often small, red, pus-filled bumps on the face.
Rosacea most commonly affects middle-aged women with fair skin. It can be mistaken for acne or other skin conditions.
Key symptoms are facial redness with swollen red bumps and small visible blood vessels.
Treatments such as antibiotics or anti-acne medications can control and reduce symptoms. Left untreated, it tends to worsen over time.
https://youtu.be/chwHDCnnC0k
How is Rosacea diagnosed?
No specific test is used to diagnosis rosacea. Instead, your doctor relies on the history of your symptoms and an examination of your skin. You may have tests to rule out other conditions, such as psoriasis, eczema or lupus. These conditions can sometimes cause signs and symptoms similar to those of rosacea.
Rosacea is a dermatological issue so if you're thinking of going to a doctor to see if you do in fact have rosacea, visit your local dermatologist.
Whose likely to get Rosacea?
As we said in the beginning of the article, most commonly affects middle-aged women with fair skin. It can be mistaken for acne or other skin conditions.
It affects mainly women in the ages of 30-50 and genetics can play a role. If your family suffers or has suffered from severe acne or rosacea in the past, you are prone to it as well. One thing to note is that smokers are also likely to get rosacea.
How can Prosacea help?
PROSACEA Gel contains sulphur 1x, a medically recognized homeopathic ingredient that, when used as directed, has been recognized to be effective for relief of common rosacea symptoms such as redness, bumps, pimples, and irritation. PROSACEA's non-oily formula doesn't cause pimples and won't clog pores (non-comedogenic). After treatment with PROSACEA has started, carefully adhere to package directions for best results. Continue to use PROSACEA until you have achieved satisfactory results or are given further advice from a doctor.
Highlights of Prosacea
Dermatologist-recommended treatment to control redness, pimples, bumps and irritation of rosacea
Over-the-counter skin treatment gel to treat redness and inflammation
Contains natural aloe to help soothe sensitive, delicate skin
Skin treatment gel is 0.75 oz in size
With no added gluten ingredients, alcohol or fragrance product
Extremely light
Applies easily and is absorbed thoroughly, leaving skin looking and feeling healthy
Contains a highly effective homeopathic ingredient
Prosacea medicated gel is formulated to be gentle on skin and help soothe and calm affected areas
Non-oily formula will not clog pores
Medicated treatment
No lingering odor
No prescription needed
#1 OTC rosacea treatment* in the US
Ingredients
Sulfur, Acrylates, Aloe Barbadensis Leaf Juice, Diazolidinyl Urea, Lactose, Methylparaben, Propylene Glycol, Propylparaben, Tetrasodium EDTA, Triethanolamine, Water.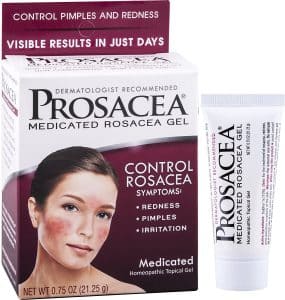 Frequently Asked Questions
QUESTION: When do I apply or how Prosacea to your face?
ANSWER: Use Prosacea as the first layer to your face. Let it dry and absorb and then you can continue with your normal face routine.
QUESTION: Can I use other products such as moisturizer or sunscreen over it?
ANSWER: Absolutely. As stated above, first layer it letting it absorb on the skin and after a few minutes you can apply either.
QUESTION: How long should the 0.75oz cream tube last?
ANSWER: Depending on the frequency of use, it can last approximately 25 days or so. You can use it anywhere between once to three times daily.
QUESTION: Can this be used for pimples or acne?
ANSWER: Yes. You can use it to help treat pimples and acne.
Before & After Results
From Amazon.com, Prosacea as of AUG 2020 has 3.9 out of 5 stars. That is a good rating score overall from a OTC cream. Let's take a look at some before and after pictures from customers: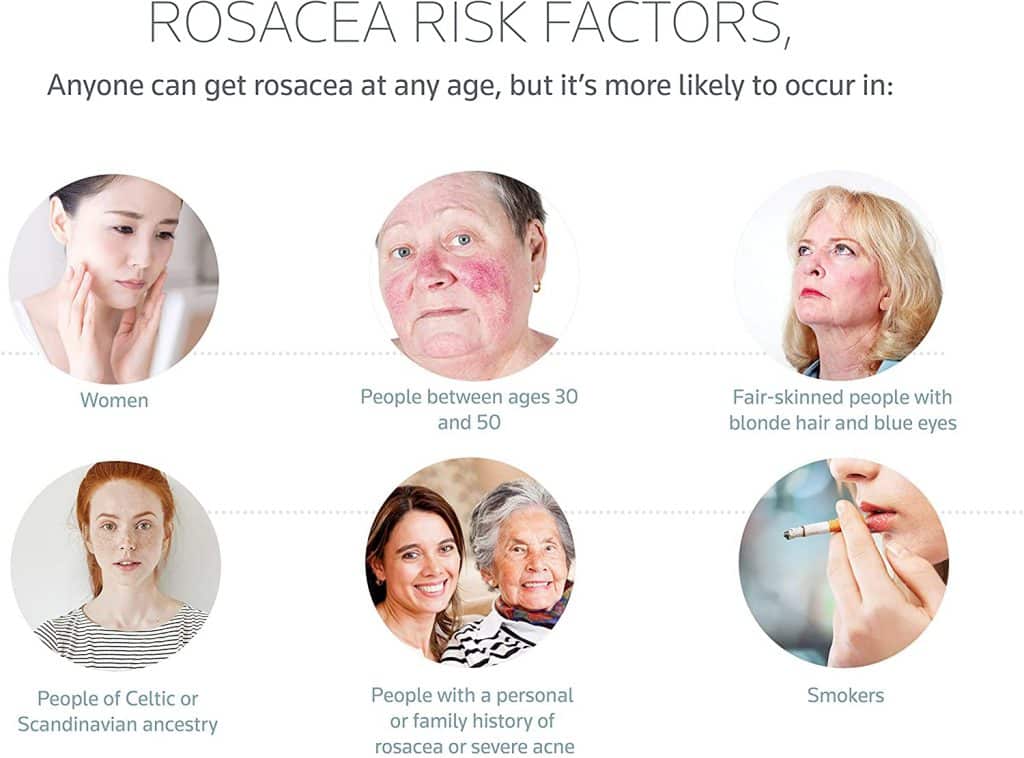 FINAL THOUGHTS
Overall, we would recommend trying Prosacea as a OTC treatment for rosacea. From looking at before and after results from customers with a 3.9 star rating out of 5 on Amazon.com as well as a 4.4 rating on Walmart.com and overall positive comments, you can't really beat the price for what it offers