We know the discomfort and agony a hemorrhoid can cause. It may be one of the most annoying skin issues one can face. Luckily, there are solutions out there that can help us address this issue that about 3+ million Americans face each year.
When looking for a hemorrhoid treatment, OTC, we are usually served with two popular options right now. Preperation-H and Doctor Butlers. These are the two most sold treatments out there and we'll give you some info to come up with a conclusion yourself to see which may be a better option for you. We'll also highlight a new option in the market that we just love because of the NAME (hint: famous doctor, kinda…) and all natural ingredients.
Both of these brands, Preperation-H and Doctor Butler have various treatments for hemorrhoids, but we're taking a look specifically at the creams.
Summary call-out differences:
Ingredients: Major one is Lidocaine. Doctor Butler has 4% lidocaine, Preperation H with aloe appears to have no lidocaine. Doctor Butler appears to have much more active ingredients.
Price: Doctor Butler is approximately $20 more expensive than Preperation H.
Alternative: There are new alternative, drug-free options in the market such as Dr. Seymour Butts ointment for hemorrhoids to consider.
FDA Approval: Both are FDA approved treatments.
WHAT IS A HEMORRHOID?
Swollen and inflamed veins in the rectum and anus that cause discomfort and bleeding.
Hemorrhoids are usually caused from straining during bowel movements, obesity, or pregnancy.
Discomfort is a common symptom, especially during bowel movements or when sitting. Other symptoms include itching and bleeding.
A high-fiber diet can be effective, along with stool softeners. In some cases, a medical procedure to remove the hemorrhoid may be needed to provide relief.
As we mentioned in the beginning of the article, there are about 3+ million cases of hemorrhoids…that go accounted FOR!
EXTERNAL HEMORRHOIDS VS. INTERNAL HEMORRHOIDS
The main difference between internal and external hemorrhoids is that internal hemorrhoids develop inside the rectum, while external hemorrhoids develop around the anus. Internal hemorrhoids usually don't cause any symptoms, but when they do, the most common symptom is bleeding.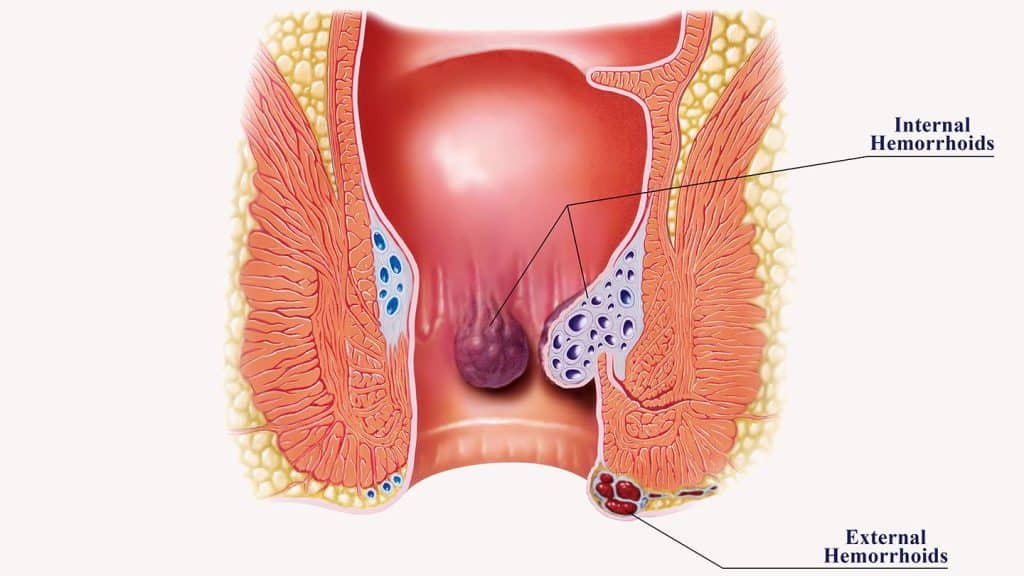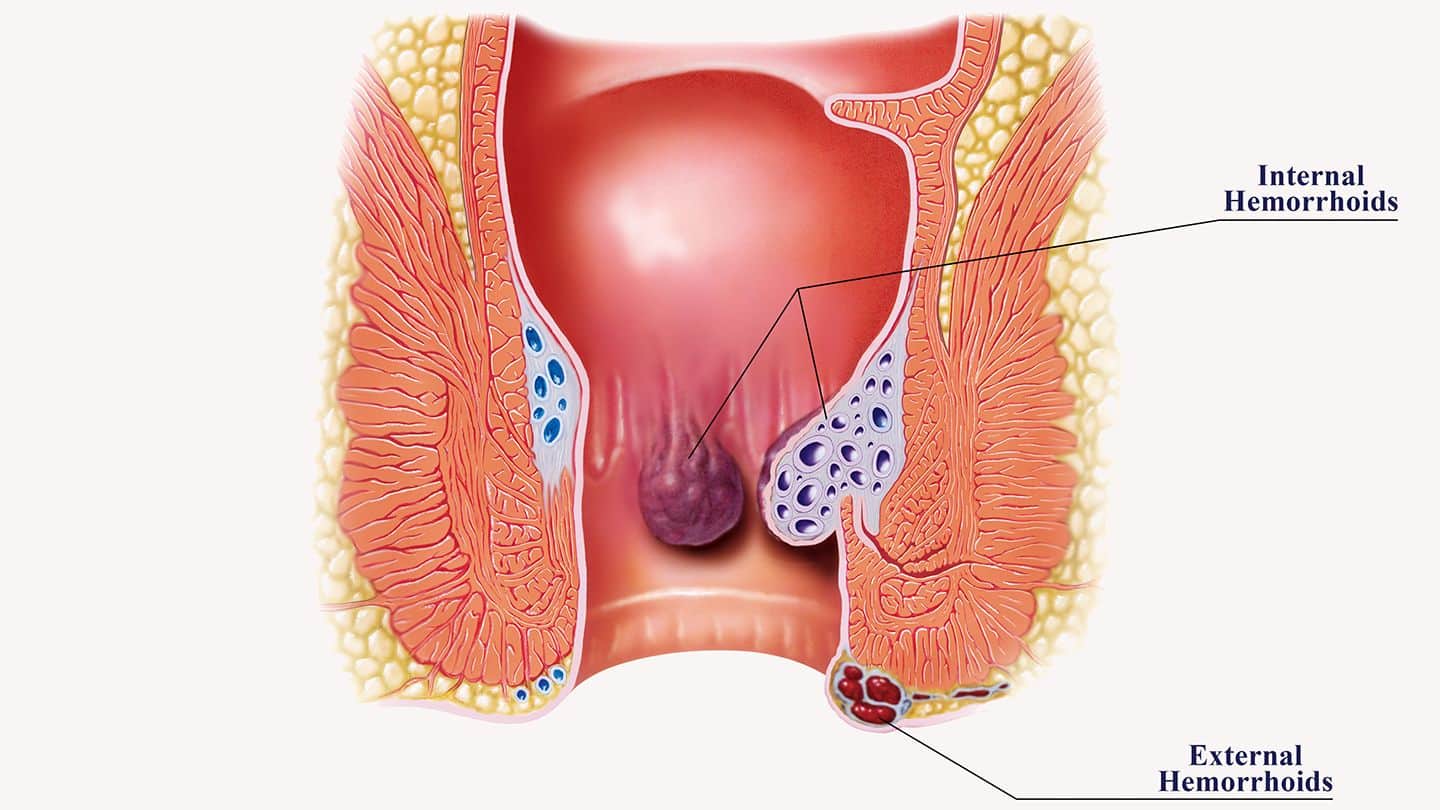 PREPERATION-H HEMORRHOID TREATMENT
Preperation-H is the most popular among ALL hemorrhoid treatment creams in the market. Preperation-H is owned by big pharma company Pfizer. The cream has mass distribution and can be found in almost any pharmacy in the United States.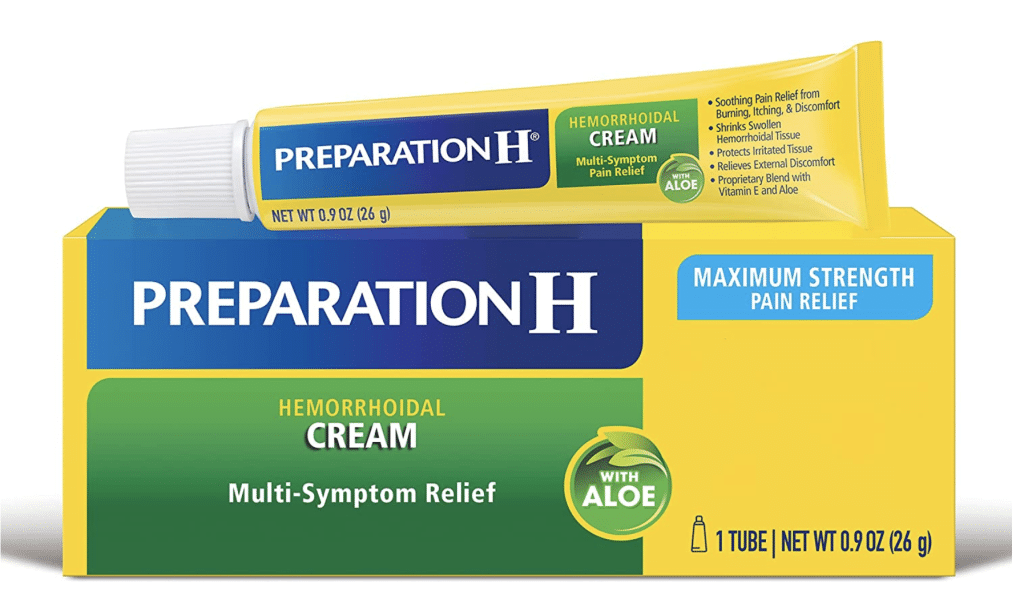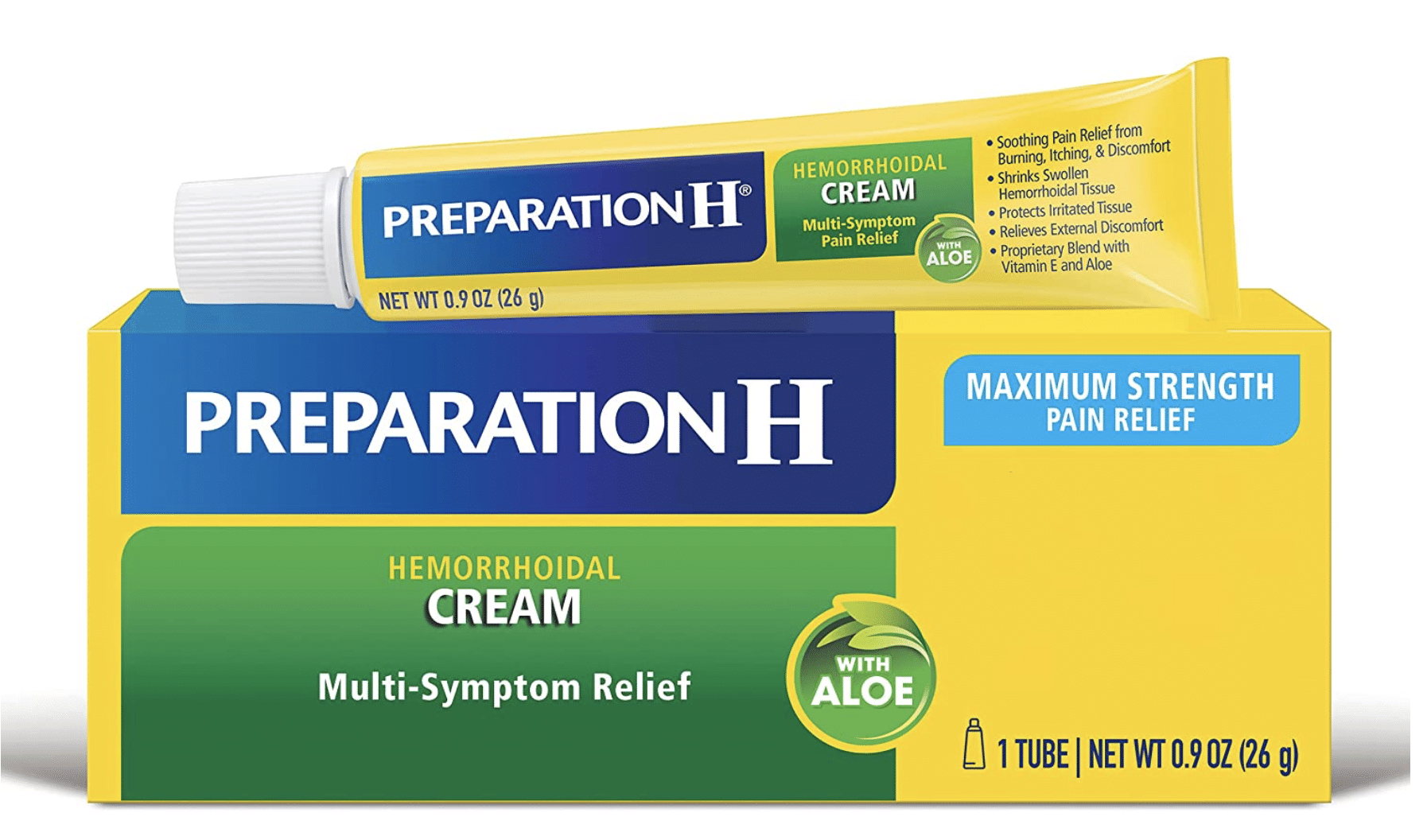 DETAILS ABOUT PREPERATION H TREATMENT CREAM
Includes one 0.9 Ounce tube of Preparation H Maximum Strength Hemorrhoid Pain Relief cream
The only over the counter hemorrhoid treatment cream with maximum strength pramoxine for multi-symptom relief
Proprietary hemorrhoid cream blend with vitamin E, panthenol and soothing aloe
Provides rapid hemorrhoid relief from pain, burning, itching and discomfort
Preparation H cream rapidly relieves external hemorrhoid symptoms
Hemorrhoid treatment formula shrinks swollen hemorrhoidal tissue
Use with Preparation H Medicated Wipes to cool, soothe and cleanse before you treat for better hemorrhoid relief
Preparation H is the no.1 doctor recommended brand for hemorrhoid treatment
PREPERATION H TREATMENT CREAM INGREDIENT LIST
Purposes Phenylephrine HCl 0.25%…Vasoconstrictor Witch hazel 50.0%…Astringent Inactive ingredients Aloe Barbadensis Leaf Juice, Edetate Disodium, Hydroxyethyl Cellulose, Methylparaben, Polysorbate 80, Propylene Glycol, Propylparaben, Purified Water, Sodium Citrate, Sulisobenzone, Vitamin E Acetate.
HOW TO APPLY PREPERATION H CREAM
---
DOCTOR BUTLERS HEMORRHOID CREAM
This may be the most popular hemorrhoid cream in the market you may not have heard of. Usually because you can only get it on the web, most notably, on Amazon.
With over 17,000 plus reviews, this is surely competing against Preperation H as a hemorrhoid solution that's worth looking at. This cream is doctor formulated.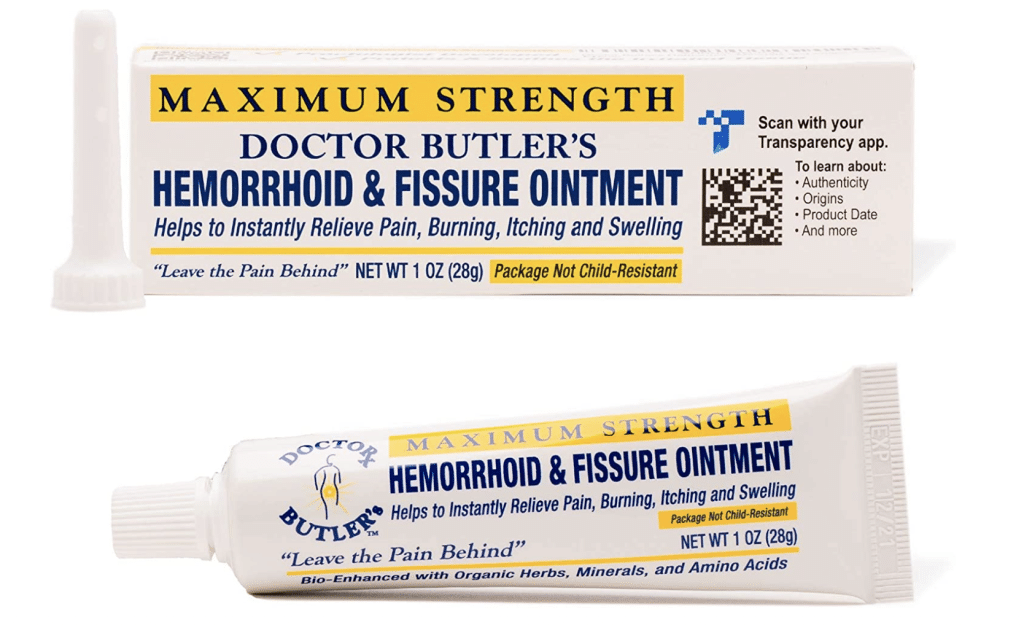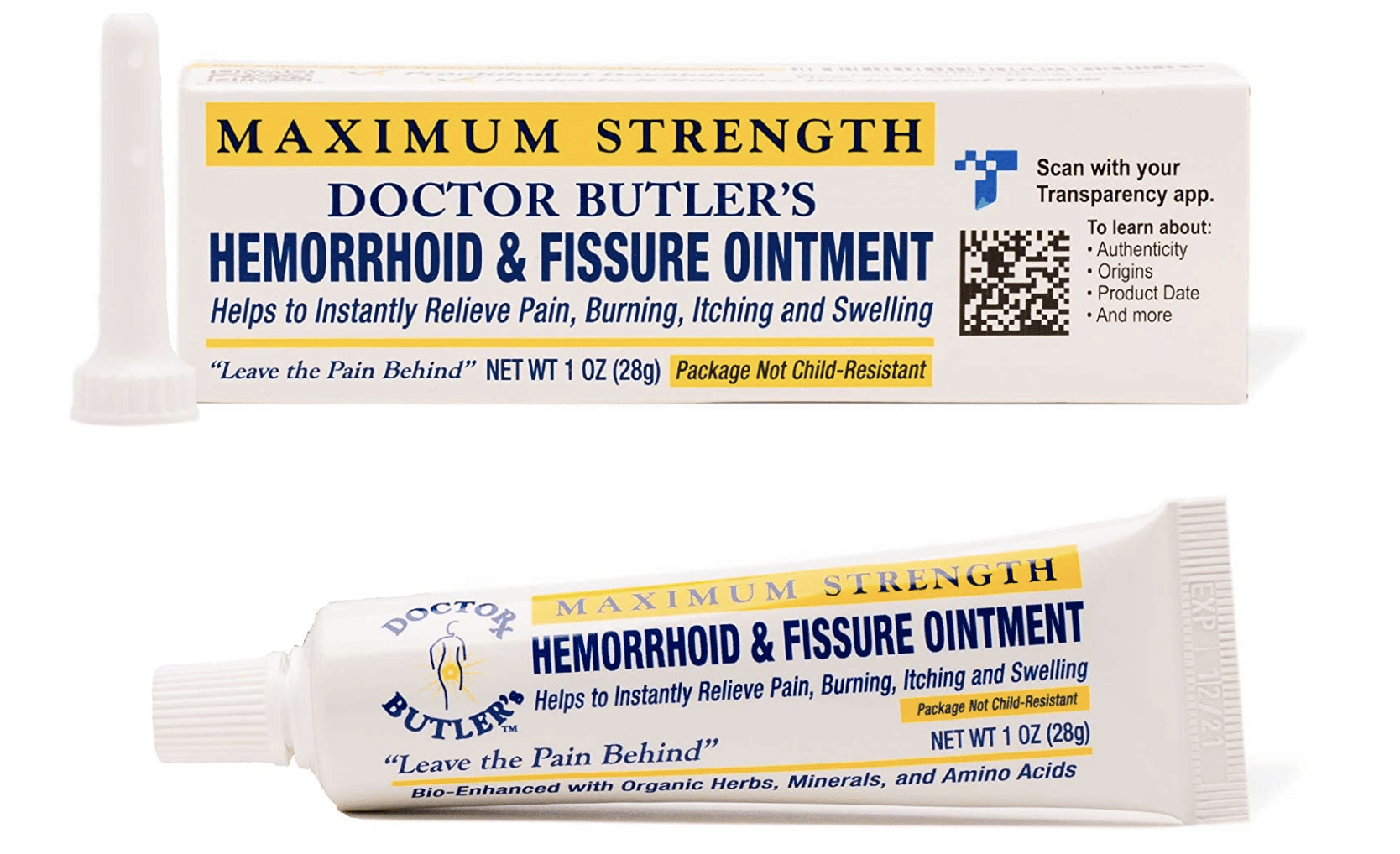 DOCTOR BUTLERS HEMORRHOID CREAM DETAILS
HEAL, SOOTHE and PROTECT: This formula also features organic herbs, essential oils and minerals and amino acids for added healing solutions and pain relief. Aloe vera extract, ginseng extract and horse chestnut are just some of the ingredients with skin protectant and anti-inflammatory properties.*
MOST SOUGHT AFTER HEMORRHOID OINTMENT- Join more than 85,000 satisfied new customers who purchased Doctor Butler's hemorrhoid pain relief products over the past year and quickly relieved the Pain, Bleeding, Burning, Itching and Swelling of Hemorrhoids & Fissures.*
MADE IN THE USA: Doctor Butler's is manufactured in the USA and is produced in our facility. Rigorous quality control of ingredients and an added safety seal is done to prove the SAFE & EFFECTIVE use of our products. We have also partnered with Leaping Bunny to maintain cruelty free standards.
DOCTOR BUTLERS CREAM INGREDIENTS
Lidocaine USP 4.0% Analgesic (pain relief), Phenylephrine HCl 0.25% (vasoconstrictor), Aesculus Hippocastanum (Horse Chestnut) Extract, Algea Extract, Aloe Barbadensis Leaf Extract, Ascorbic Acid, Calendula Officinalis Flower Extract, Caprylic/Capric Triglyceride, Centella Asiatica Extract, Chamomilla Recutita (Matricaria) Flower Extract, Cholecalciferol, Helianthus Annuus (Sunflower) Seed Oil, Hydrocortisone, Lysine HCl, Methylparaben, Mineral Oil, Octyldodecanol, Olea Europaea (Olive) Fruit Oil, Panax Ginseng Root Extract , PEG-8 Dimethicone, Petrolatum, Porphyra Umbilicalis Extract, Propylene Glycol, Propylparaben, Punica Granatum Fruit Extract, Pyridoxine HCl, Retinyl Palmitate, Silica, Sodium Hyaluronate, Sodium Propoxyhydroxypropyl Thiosulfate Silica, Stearic Acid, Tocopheryl Acetate, Triethoxycaprylylsilane, Water, Zea Mays (Corn) Oil, Zinc Oxide
DOCTOR BUTLER CREAM REVIEW
---
So, which do you think may be right for you? Looking for a more natural product to help with hemorrhoid relief? Must check out Dr. Seymour Butts as a great alternative to both of these products.