When it comes to hair loss, we'd like to start off this post with telling you that there is NO MAGIC product. However, there are products that actually do work on helping you not only keep the hair you currently have but also just overall helping with hair health and can help grow hair.
One product that has been in the market for many years and is the only approved FDA topical for hair regrowth is minoxidil 5%, known as Rogaine by many for so many years (even though now many brands sell topical minoxidil 5%.)
WHAT DOES ROGAINE DO TO HELP REGROW HAIR?
Although the exact mechanism by which Minoxidil works is not fully understood, the treatment is a vasodilator, meaning it widens the blood vessels to deliver more oxygen-rich blood to the hair follicles. Minoxidil also helps increase the size of hair follicles, which promotes the growth of thicker, stronger hairs.
 It won't rescue a receding hairline. It does stimulate hair growth, although scientists aren't quite sure how it works.
ROGAINE & MALE PATTERN BALDNESS
Minoxidil solution and foam are used to help hair growth in the treatment of male pattern baldness. It is not used for baldness at the front of the scalp or receding hairline in men. The foam and 2 percent minoxidil solution is also used to help hair growth in women with thinning hair.
A Study to Evaluate the Effectiveness and Safety of 5 Percent Minoxidil Foam in the Treatment of Male Pattern Hair Loss
Male subjects with androgenetic alopecia were enrolled in this fourteen-center trial. Subjects were randomized to use either 5% minoxidil or placebo foam twice daily for 16 weeks. A total of 143 subjects continued use of the 5% minoxidil foam for 8 to 12 months in an open-label phase to obtain safety data on 5% minoxidil topical foam when used twice daily for up to one year.
The 5% minoxidil foam was shown to be effective in the treatment of male androgenetic alopecia in a 16 week trial. It was statistically significantly superior to placebo foam in the primary efficacy measure of mean change in the non-vellus hair count in the target region between Baseline and Week 16, and the subject rating assessed an overall improvement from Baseline.
The efficacy of 5% minoxidil compared to placebo was confirmed by the secondary efficacy endpoints of scores from the expert panel review of hair regrowth when comparing photographs obtained at Baseline with photographs obtained at Week 16, as well as the percent change from Baseline in non-vellus hair counts within a pre-specified area of clipped hair.
The 5% minoxidil foam formulation was well tolerated, the incidence of adverse events was similar between groups, and no safety concerns were raised based on clinical laboratory test results, vital signs or scalp irritation scores.
Where it is most effective in medical studies is in the crown / vertex area of the head.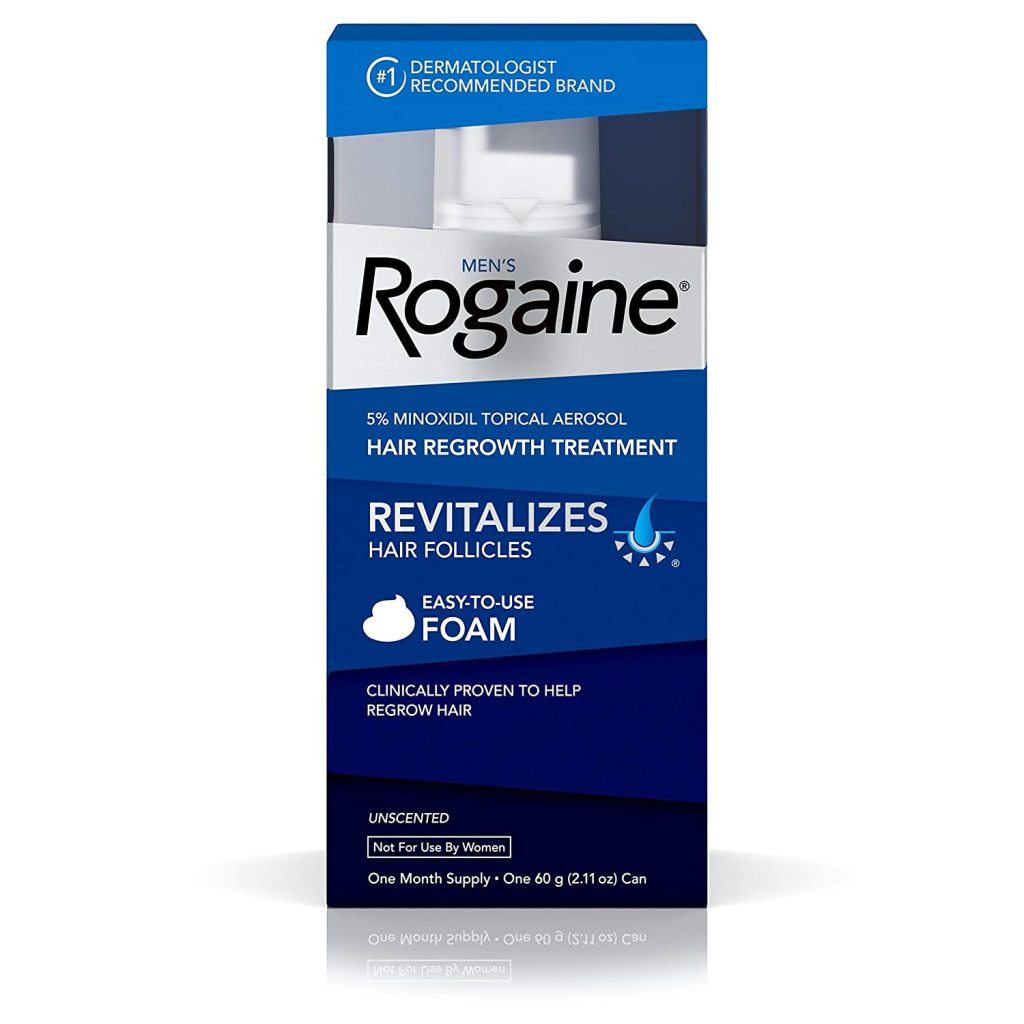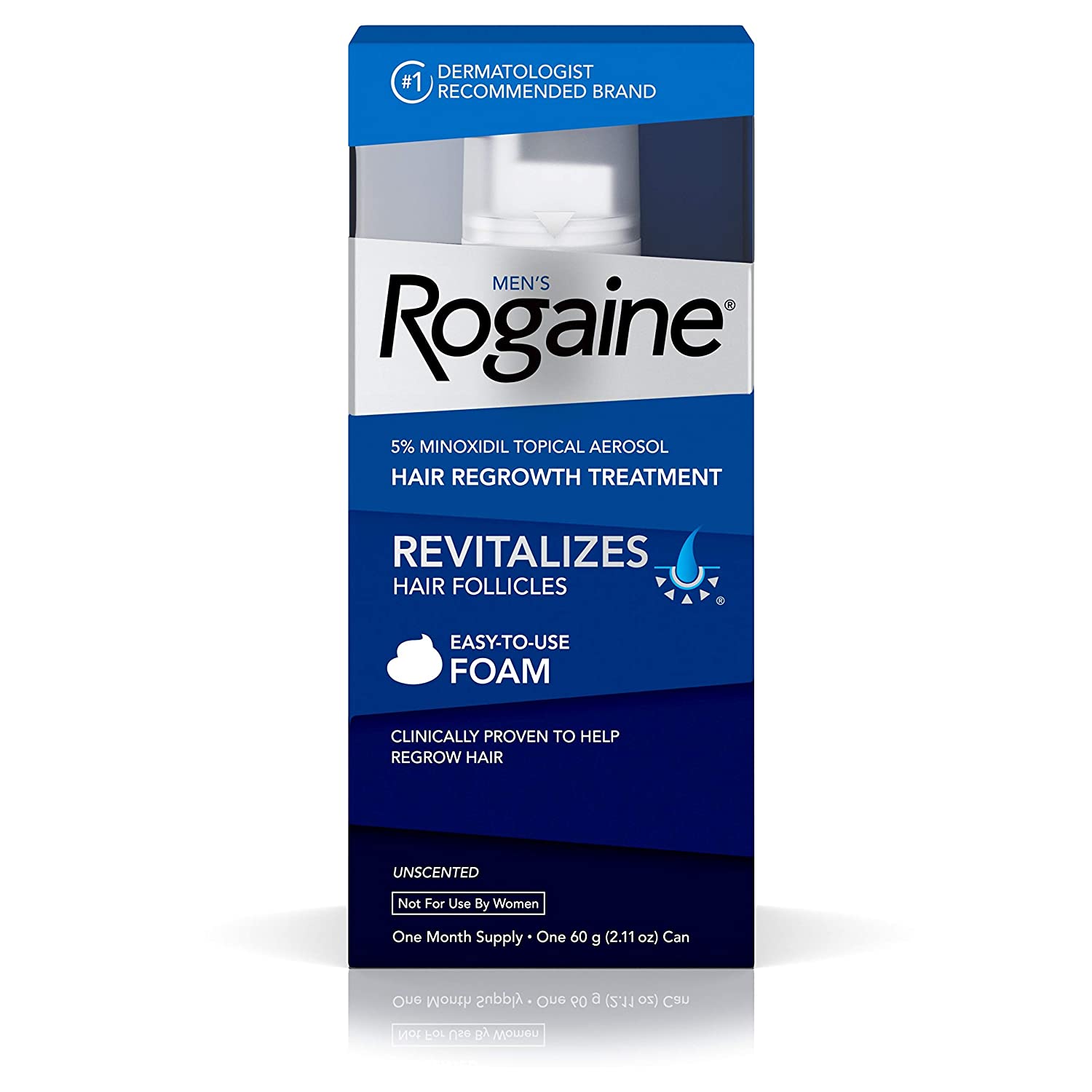 Rogaine Q&A with Dermatologist:
1 Year Minoxidil/Rogaine Hair Update | Before & After Results | Does Minoxidil Really Work?
BEFORE & AFTER WITH ROGAINE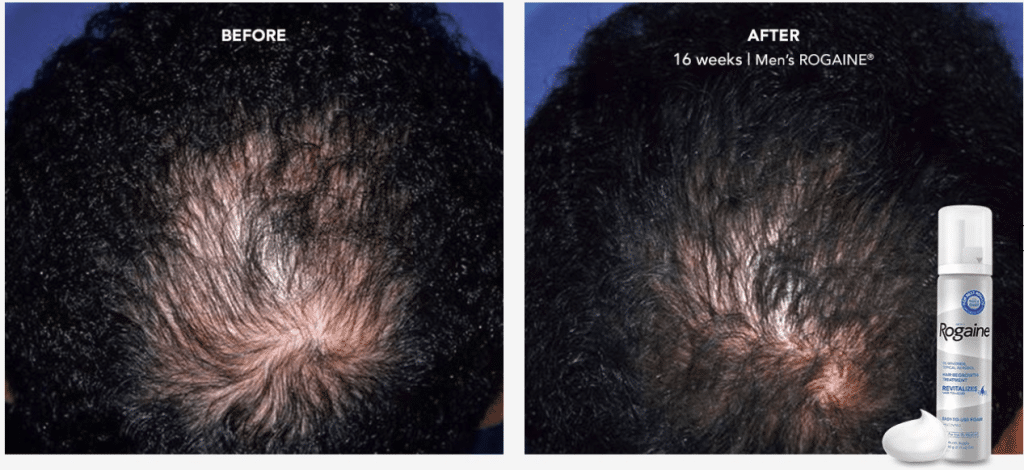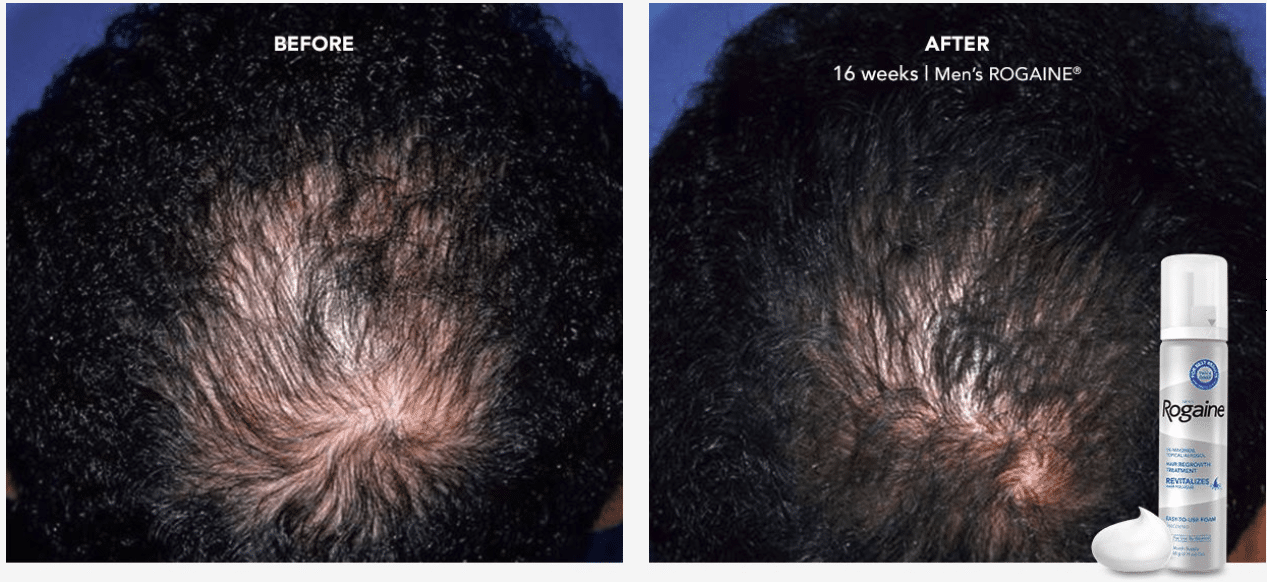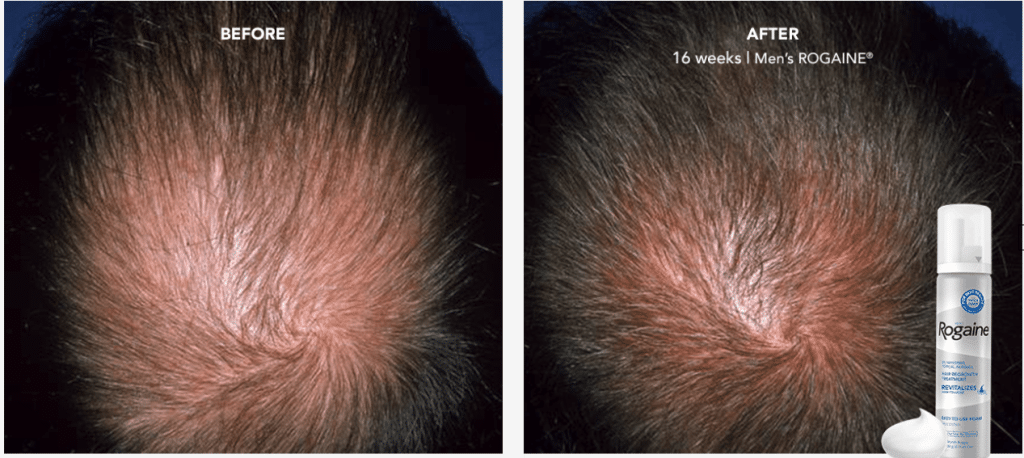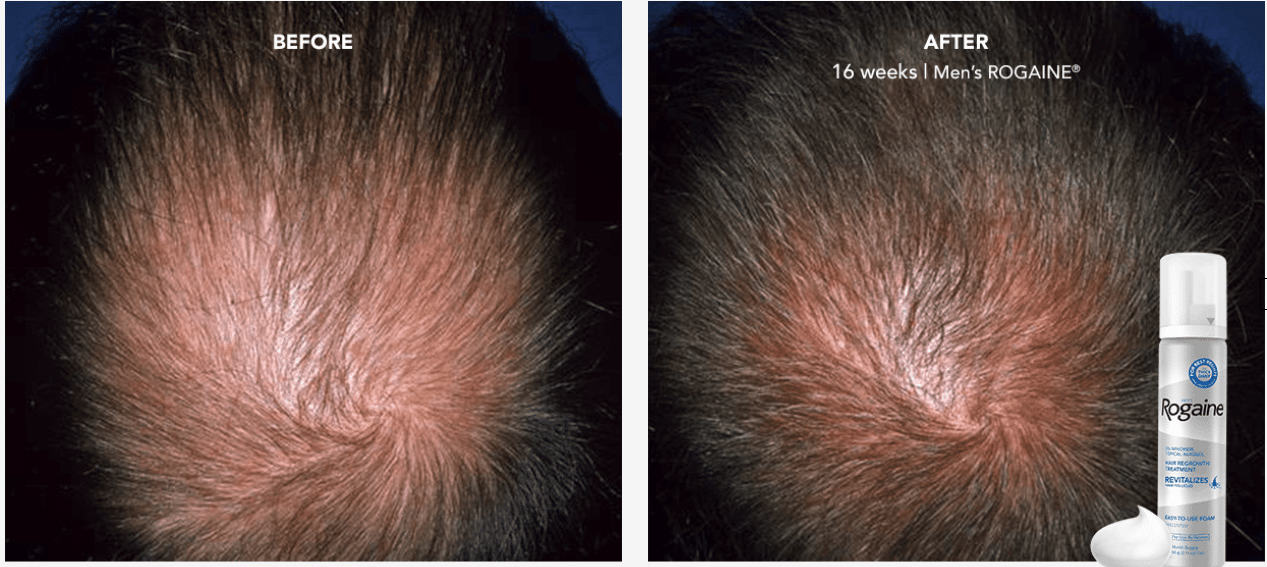 SHOULD YOU USE ROGAINE TO HELP TREAT MALE PATTERN BALDNESS?
Absolutely. Most dermatologists would agree, and recommend to use Minoxidil 5% if you're dealing with hair loss and thinning hair. This over-the-counter presents a great option to start combating your hair loss and give it a good fighting chance.