Capillus vs. iRestore Comparison Review
When it comes to hair regrowth, there are many products in the market that can really treat hair loss. A new, novel approach to hair regrowth treatment has been laser cap treatments by the likes of companies like Capillus and iRestore.
Hair regrowth treatments have been on an incredible rise since the 70s with minoxidil coming into the market which has been branded as Rogaine amongst many others now that have come into the market, which are basically selling the same thing with different brand names, but essentially, minoxidil.
Relatively recently, this new method of hair regrowth treatment has hit the market giving consumers an easy and what seems an effective way for hair regrowth from the comfort of your home and what also seems to be in a short period of use on a daily basis.
Difference Between Capillus And iRestore Laser Cap
DESIGN
If you look at the design of these two products, one looks like a regular cap/hat, while the other looks a lot more like a technical device. The Capillus design cap is like any regular hat but on the inside, it has its laser technology. On the other hand, iRestore has a very technical-looking device that seems a lot more like a medical device and may cause more awkwardness to be seen with it, but again, typically, these treatments are to be done at home and not in the workplace.
QUALITY
 The quality of Capillus seems to be best-in-market. While both are FDA cleared products, Capillus caps are made in the United States while iRestore caps seem to be made in China giving Capillus an extra touch of quality and control from the United States.
LED VS LASER
This is a huge difference between both. Capillus uses a laser with no LED technology whereas iRestore uses LED technology in its laser cap with about 21 lasers in its technology. The reason this is important is that LED technology is not a proven method of treatment when it comes to hair loss. Capillus has about 82 laser dodies that make it a higher quality, in our opinion, cap of its kind to treat hair loss and for hair regrowth.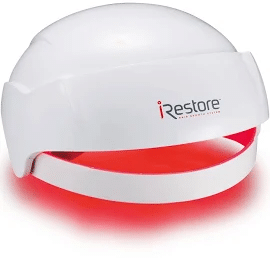 Can I Use Capillus & iRestore Cap Together?
It is not recommended you use these two products together. Whichever one you choose, that should be enough treatment for laser hair stimulating regrowth.
Which Hair Laser Cap Is More Popular? Capillus Or iRestore?
Both of these products have most of the market share in this space and both have a name in the space. Capillus seems to take lesser of a market share (online) do to its price point as its about $400 more expensive than iRestore, but from our research and analysis, it is of higher quality which seems to provide a better treatment when it comes to laser hair regrowth treatment.
Before & After
Many customers claim to see results from both of these caps to simulate hair growth. Here are some before and after images from Capillus:
Capillus Overview
CLINICALLY PROVEN & FDA CLEARED as a safe and effective treatment for hereditary hair loss (identified by overall thinning hair, a receding hairline and pattern baldness). Now anyone can grow their hair at home or on-the-go with the same lasers previously available only through physicians.
JUST 6 MINUTES EVERY DAY. Comfortably treat your scalp with the flexible fitting CapillusUltra in the time it takes to drink your morning coffee.
DOCTOR RECOMMENDED TREATMENT to grow thicker, fuller hair if used as a stand-alone product, or in conjunction with topical hair loss foams, prescription medications, or before and after hair transplant surgery Hair loss doctors know not all laser hair regrowth products are created equal and with no known adverse side-effects reported, the CapillusUltra cap features laser only technology with no interior LED lights.
MANUFACTURED IN THE USA for quality assurance, this device is easy, discreet, comfortable and individually inspected before shipping for safe use. Our US-based customer service & support are available to answer any questions.
irestore Overview
iRestore Laser Hair Growth System (also known as iRestore Essential, ID-500) is a FDA-cleared hair loss treatment and medical device for treating alopecia, receding hairline, balding & thinning hair to stimulate hair regrowth for men and women (note: this is NOT the iRestore Professional model)
6-Month 100% Money Back Guarantee – Users can expect to see visible hair improvement in as little as 3 to 6 months (results may vary). If you don't see results with our laser hair loss products in 6 months, send it back for a FULL REFUND (NOTE: you MUST contact the seller Freedom Laser Therapy directly for the return as Amazon's system only allows up to 30 days)
iRestore has been clinically studied by doctors and been proven to promote hair regrowth for men and women in a recent 2017 research study. In this clinical study, an astonishing 100% of active male and female users saw visible hair growth with an average increase of 43.23% in hair count (Scroll down to the "RELATED VIDEO SHORTS" section below to learn more)
Whether you're a man or woman, you can grow thicker, fuller, and healthier hair fast with iRestore's clinical-strength laser hair restoration technology. You can use it on its own or combine it with other hair loss treatments; physicians believe low-level laser therapy (LLLT) can be used to enhance the results of other hair loss treatments (such as biotin supplements, hair growth shampoo, conditioner, foam, Rogaine, minoxidil, Propecia, finasteride, and other hair growth products)
Developed in GMP-certified facilities, this home-use medical device is durable, lightweight, comfortable, hands-free and easy to use – unlike a laser comb and brush that provides far less coverage AND requires constant hand movement, which is tiring, inconvenient, and prevents you from going about your day.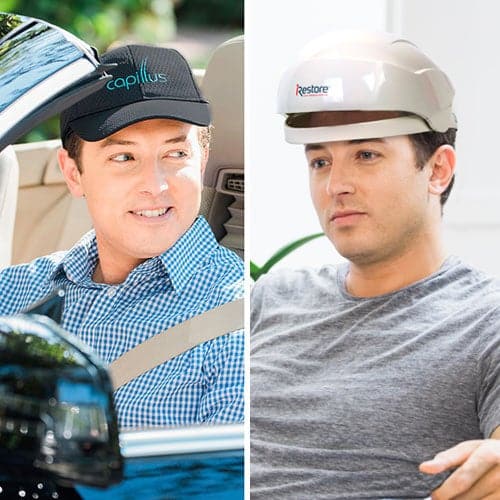 Conclusion
From the search and reviews online, we can gather that when it comes to hair regrowth laser treatment, Capillus and iRestore are the two best brands and products in the market. If you have to choose between both, it depends on if you're looking for quality and/or price point. If you want to see if hair laser treatment is right for you and not sure about spending $999, iRestore is a great option at around $545.
However, if you're looking for a more quality all laser hair regrowth treatment, we would recommend Capillus. The Capillus product has about 3 different versions of its product which you can find ranging from $999 to $2,500.
From our research as well, some dermatologists do recommend the Capillus cap for hair regrowth laser treatment.