It's no news that sunscreen is essential now-a-days to have when going to the beach, pool or even for a lot of people that spend a lot of hours outside on a day to day basis to have. Skin cancer is becoming increasingly more common and protecting our skin from the sun must always be a priority as there are other skin conditions and reasons why you want to apply sunscreen. The FDA has recently released warnings regarding sunscreen and that is that chemicals from sunscreen actually do absorb into your bloodstream which has a lot of people now doubting if using certain sunscreens make sense, so, many are starting to consider switching to those sunscreens that are made of natural ingredients, one being zinc oxide.
Protection for your skin
People haven't been the biggest fans of zinc oxide sunscreens due to the white residue that it leaves on your skin, however, that is a much better alternative than using sunscreens made from ingredients that are not natural or not using sunscreen at all. Now, zinc oxide sunscreens are being made with a clear color that reduces that white residue and that solves that, now you're on your way to using a good natural sunscreen for your skin. Zinc oxide sunscreen works in that when ultraviolet light hits the zinc oxide and reflects away from the skin, preventing it from penetrating the skin. This type of sunscreen is safe for all ages, even infants. Using a zinc oxide only sunscreen, it's best to apply about every two to three hours. So, now you're pretty much ready to make the switch or start using a zinc oxide sunscreen but you're wondering, "which one should I buy?" So, let's review our top picks for the best zinc oxide sunscreen out there.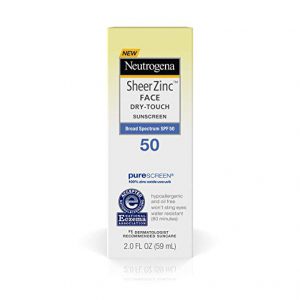 First on our list is the Neutrogena sheer zinc oxide dry-touch face sunscreen. This sunscreen has some great value propositions and the price point doesn't hurt at all, right? Specially formulated water-resistant face sunscreen is made with naturally-sourced 100 percentage zinc oxide and features Dry-Touch technology to help ensure it dries with a non-greasy finish. The Neutrogena sheer sunscreen is free of fragrance, parabens, phthalates, dyes and irritating chemicals so it's gentle on the skin and won't sting eyes. This gentle face sunscreen delivers 2x better UVA protection than the leading mineral sunscreen and layers invisibly under makeup for easy wear.
ProS
National Eczema Association Seal of Acceptance Award
Quick Dry Technology
UVA & UVB Protection
CONS
Must be reapplied every 2 hours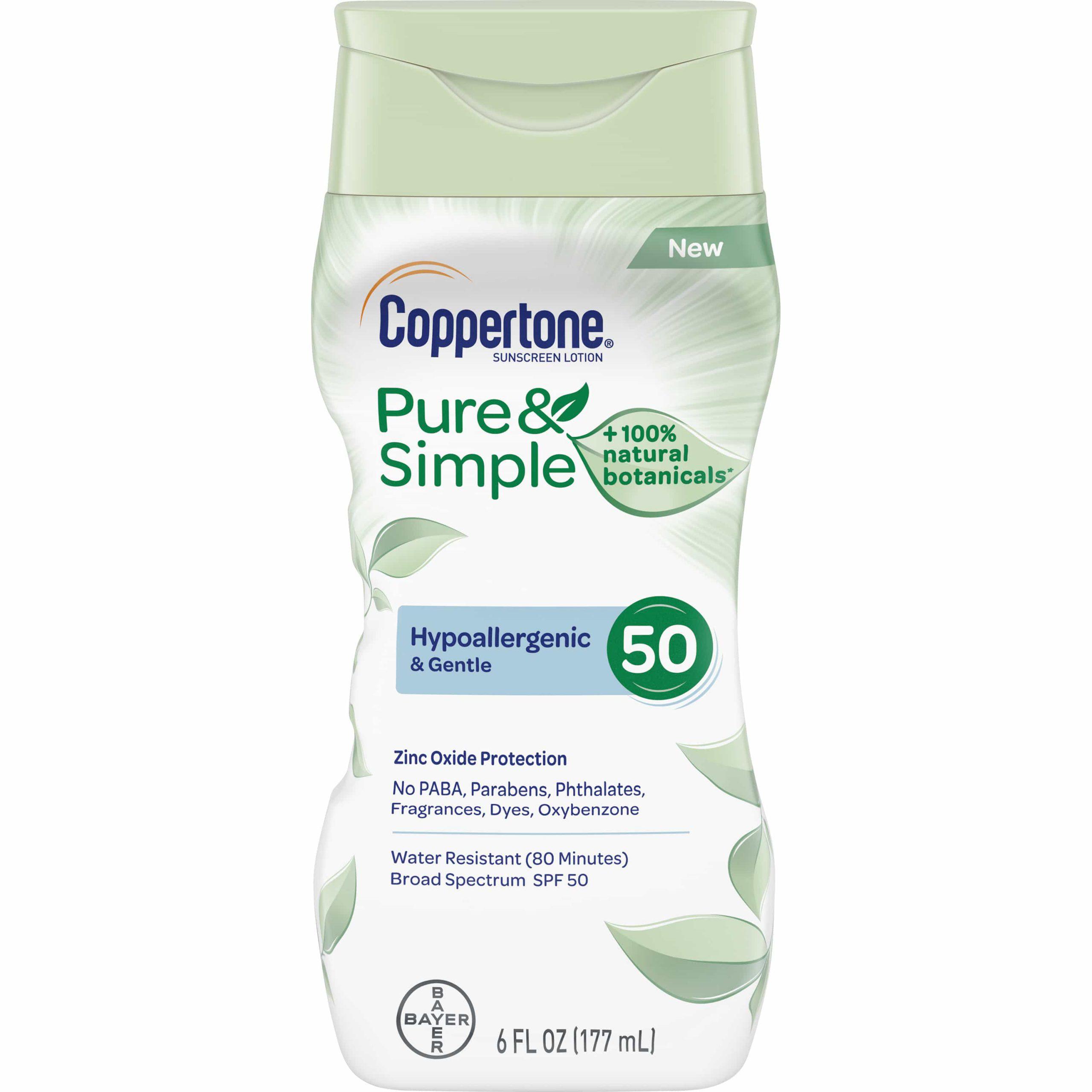 The Coppertone Pure & Simple SPF 50 is a great sunscreen lotion with zinc oxide. The Coppertone has a great reputation as a great brand so we can definitely trust this product to do the job. The Coppertone Pure & Simple has gentle, dermatologically tested, naturally sourced zinc oxide lotion plus 100% natural botanicals (tea leaf, sea kelp, and lotus extracts.) It is Free from PABA, phthalates, fragrances, sulfates, parabens, dyes, alcohol, and oxybenzone. Protect even the most sensitive skin with Coppertone Pure & Simple Adult SPF 50 Sunscreen Lotion. This gentle, dermatologically tested lotion will not clog pores and protects your skin during any outdoor activity. The hypoallergenic formulation, made with naturally-sourced Zinc Oxide plus 100% natural botanicals (Tea Leaf, Sea Kelp, and Lotus extracts), provides broad-spectrum UVA/UVB protection. Coppertone Pure & Simple is free from PABA, phthalates, fragrances, sulfates, parabens, dyes, alcohol, and oxybenzone. Enjoy the peace of mind of naturally sourced, gentle protection, even against even strong sun. The bottle contains 6 fl oz SPF 50 sunscreen lotion. Use and reapply as directed.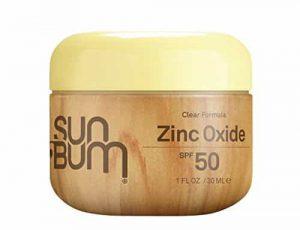 The Sun Bum zinc oxide sunscreen might be a top choice for many with its clear formula. This Sun Bum sunscreen includes a Zinc Oxide Formula with added Aloe and Vitamin E adds a protective barrier between your face (or other sensitive areas) and the sun. It is hypoallergenic and made with reef friendly ingredients designed to be tough against the sun and gentle on your skin while protecting against UVA rays, preventing premature aging, and moisturizing skin; vitamin E enriched. Sun Bum follows the recommendations & guidelines set by the Skin Cancer Foundation (SCF) and the American Cancer Society. All Sun Bum's Original line of sunscreens have been tested, approved, and recommended by the SCF. Trust the Bum.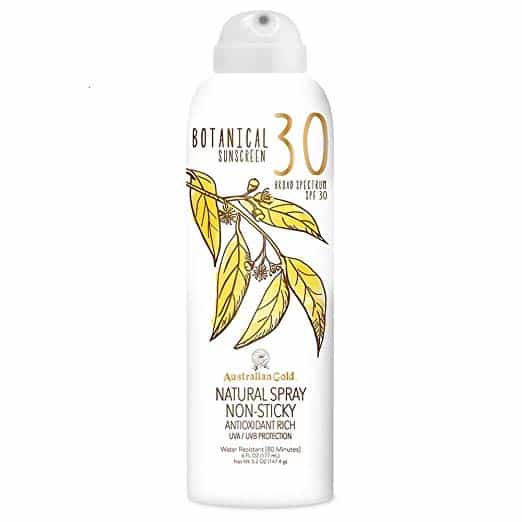 The Australian Gold Botanical sunscreen is the strongest of the last 3 and has some great properties to protect your skin from the sun. Titanium Dioxide and Zinc Oxide provide a non-chemical sun protection option, with a powder-like matte finish that's never greasy. The Australian Gold Botanical SPF 70 Mineral Lotion is more than just powerful sun protection – it's gentle care for your skin. This non-chemical sunscreen lotion delivers non-whitening protection with a refreshingly luxurious, powdery-clean feel. Rich in vitamins and antioxidants from native Australian botanical ingredients, it allows you to enjoy the sun your way, protected from both UVA and UVB rays, and water-resistant for up to 80 minutes. Discover the deliciously subtle scents and non-greasy, non-sticky feel of the Australian Gold Botanical Line to look and feel your best every sunny day!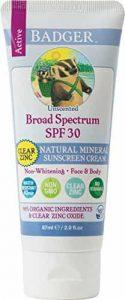 The Badger clear zinc mineral sunscreen is a great sunscreen option with great reviews. This is a Non-whitening face and body sunscreen is easy to apply and blends with your skin tone. Clear zinc starts out white and rubs in clear! Safe for your body and the environment, Badger's SPF 30 Clear Zinc Sunscreen offers supreme sun protection that your body is sure to love on those sunny days. It rubs on clear, ridding your life of those awkward white patches. Moisturizing sunscreen formula offers 40-minute water-resistant protection for swimming, exercising, fun in the sun beach time, and other activities. This broad-spectrum formula has a base of gentle antioxidant-rich sunflower oil, seabuckthorn extract, and beeswax with active ingredient 18.75% clear zinc oxide to keep you protected.